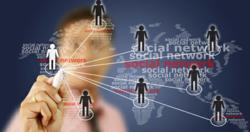 CA-SBN provides members with access to a multimedia platform equipped with the digital tools required to enhance digital marketing.
Washington, DC (PRWEB) March 06, 2013
Marketing is a crucial component of business continuity and expansion. However, marketing has been through dramatic changes over the recent years as the digital era has taken over the marketplace. Businesses have embarked on the challenging road to digital era by adopting new networking and marketing tools. Within this context, California State Business Network introduces a comprehensive range of digital marketing tools to enhance business and career development for members.
California State Business Network has launched new digital tools with the purpose to complement the conventional advertising and marketing approach. Therefore, members benefit from a supportive package that incorporates the best of both worlds. With a particular focus on marketing tools, CA-SBN is on a mission to promote members and their accomplishments, provide them with new business and professional opportunities, maximize their business and professional potential, and gain positive publicity for them and their organizations.
Here are some details about the new digital marketing mediums delivered by California State Business Network to its members:

Video Release is a marketing and advertising format that search engines favor and index accordingly. As a result, California State Business Network generates a professional video highlighting members and promoting relevant information related to their business or career, such as exceptional skills, products, services, projects, and more. The video release, by nature of its format, stands higher chances of showing up at the top of search engine results. In addition, the video release is sent out through major distribution channels to reach a wider and more receptive audience. Featured on members' websites, the video release is a great source of information for visitors, as well as a valuable third-party endorsement.
Social Media Setup is a program that accommodates members of the California State Business Network on the most significant social media platforms. The power of social media allows members to communicate their message to targeted audiences, creating an emotional bound between brand and potential customers. Social media setup drives traffic to businesses, increasing their conversion rates and building brand awareness.
Ecommerce Marketplace is a facility that converts members of California State Business Network into state preferred vendors operating through state certified websites linked to CA-SBN site. This places members and their business in front of an audience that seeks to do business particularly within this network of state preferred vendors. According to http://www.castatebusinessnetwork.org, this form of targeted marketing is very efficient when enhanced by a prestigious third party such as California State Business Network.
For more information about the digital marketing tools offered by California State Business Network, please visit http://www.castatebusinessnetwork.org.
About California State Business Network:
California State Business Network (CA-SBN) is a career and business development program established to promote job growth, commerce and networking. It is equipped with the tools, expertise and connectivity to help businesses expand their influence while forging strategic alliances necessary to attain higher levels of achievement. With its integrated infrastructure, CA-SBN holds a powerful online platform for building fundamental connections on a local, state and national scale.