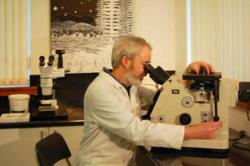 Spectrographic's new preparation centre provides excellent laboratory facilities, which are well maintained and ideal for specialist metallography work.
Leeds, West Yorkshire (PRWEB UK) 13 March 2013
Spectrographic Limited, a leading supplier of metallographic equipment and consumables to the material science industry, is supporting the work of David Starley, an archaeometallurgist who is currently involved in the restoration and conservation of a 12th century stained glass window at Canterbury Cathedral.
Based in Baildon, West Yorkshire, Spectrographic offers a range of metallographic products and equipment for material science analysis and quality inspection procedures. Recently, the company opened a new preparation facility for customer demonstrations and product development.
Starley, whose background includes working as a metallurgist for the former English Heritage Ancient Monuments Laboratory and The Royal Armouries, is a specialist in archaeometallurgy. Spectrographic is supporting Starley's work at Canterbury Cathedral by providing him with unlimited access to their preparation centre. Starley is using the facilities to examine the rare and precious ferrous samples taken from the ferrimenta – the ancient ironwork supporting the stained glass window panels.
Paul Chippendale, Managing Director of Spectrographic commented:
"Using metallography to study historic buildings is quite a rarity. And, due to the nature of the material he was working with Starley wanted to avoid simply handing the precious samples over to a person familiar only with current day alloys and metals. He needed to be in a position where he could examine the samples himself, and Spectrographic's new demonstration centre provided the perfect solution."
Spectrograhic's preparation centre offers access to a full range of preparation equipment for metallurgical work, and provides high specification resources including cut mount polish tools, high performance microscope cameras, and research grade metallurgical microscopes for analysis of microstructures.
Chippendale continues: "Though only a minority of Starley's work requires metallography, it is this aspect that he finds the most difficult to facilitate. Access to good laboratory facilities - that are well maintained – is unusual. Spectrographic was therefore delighted to be able to support David's work, which we recognise as being of historical importance and valuable for preserving the heritage of this country."
Spectrographic supports clients nationwide and internationally with a variety of metallurgical requirements, and regularly works with expert metallurgists in the automotive, oil and gas and aerospace industries, and for higher and further education establishments. The company offers a comprehensive range of metallographic products and equipment for material science analysis and quality inspection procedures, as well as specialist advice in material sample preparation, computer based image analysis and microscopic inspection.
For more information about Spectrographic, visit http://www.metallography.co.uk or contact a member of the team on telephone 0-127-496-6173 or email info(at)metallography(dot)co(dot)uk.