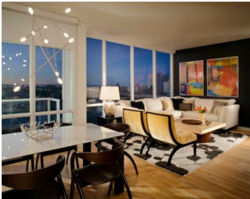 I am honored to have my work chosen as the set of an HGTV show
Berkeley, CA (PRWEB) March 06, 2013
Bay Area interior decorator Kristina Wolf has been asked to design the interior set for Power Broker, an HGTV show anticipated to premiere in spring 2013. Johlt Productions, the production company behind HGTV's new show, asked modern interior designer, Kristina Wolf if she had any suggestions for a vibrant setting to film the pilot. Kristina thought of a project she'd recently completed on a Jack London Square condo and when the producers went to scope it out, they saw it as a great fit.
Power Broker will feature Mike Aubrey assisting buyers in finding their dream homes for the best price. Aubrey has been seen giving his expert advice on the popular series House Hunters as well as Real Estate Intervention. Since filming the pilot, the show has been approved as a new series and now Kristina Wolf's designs will be featured in several episodes.
"I am honored to have my work chosen as the set of an HGTV show," said Kristina Wolf. "Making places and spaces beautiful is my duty and passion so being selected for this is my pleasure."
The production company behind Power Broker, Jholt Productions, recruited Kristina Wolf Design to secure a picturesque location in an Oakland, California neighborhood with an East Coast feel to film the show's pilot
Kristina and her team of experts further accessorized the space to make it fit the show's needs as an office space for Mike Aubrey (aka the Power Broker). Since shooting the pilot, the client's home has been used to tape two additional episodes, and Johlt Productions anticipates using the site for an additional taping later in 2013.
For more information about Kristina Wolf Design and her team's ability to bring both commercial and residential spaces to life, please visit http://www.kristinawolfdesign.com/ or call (510) 848-8773.
About Kristina Wolf Design
Kristina Wolf Design is a Bay Area interior designer serving the Oakland Hills, Piedmont, Lafayette, Orinda, and Lamorinda. Located in Berkeley, CA, the team of designers is composed of experienced commercial interior designers and modern interior designers.
Kristina Wolf Design is a top interior designer in the Bay Area that creates memorable interiors in harmony with each client's personal vision, with minimal stress. Whether it's developing a new home interior design or helping clients select the perfect color palette for a paint project, Kristina Wolf Design deepens the connection between customers and their home, while honoring clients' objectives.