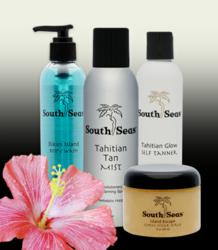 We are thrilled to be working with the cast and crew again! With all of the changes this season, it promises to be the most exciting show on TV - Julie Nostrand, Founder
Loveland, CO (PRWEB) March 06, 2013
South Seas® is proud to announce they have been chosen for a fourth season as the official spray tan provider for ABC's Dancing with the Stars – Season 16.
South Seas® company founder, Julie Nostrand, commutes to Los Angeles every Sunday to apply the signature South Seas® spray tan to the cast of ABC's Dancing with the Stars. The show, famous for the spray tans, chose South Seas® prior to Season 13 in order to offer a more natural looking tan. The result has been a beautiful, flawless tan which works on every cast member. In addition to the spray tan, the Emmy Award winning Makeup Department applies several different South Seas® Body Care products the day of the show, including the world renown Island Glow Body Bronzer which offers a flawless finish without transferring onto the wardrobe.
South Seas® continues to be Hollywood's "go to" for the perfect tan. In addition to ABC's Dancing with the Stars, the product line can also be found on the following TV sets: Modern Family, Suburgatory, True Blood, Mad Men, Sons of Anarchy, 1600 Penn, Client List, Girls, Happy Endings, Hawaii 5-0, NCIS, Days of Our Lives, Castle and Touch. For the Big Screen, South Seas has also been used on 300, Battleship, Immortals, John Carter, Mission Impossible IV, Pirates of the Caribbean IV as well as photo shoots for Victoria's Secret.
About South Seas®
South Seas® provides paraben free spray tanning, body bronzing & body care products to over 4,000 of the world's most elite spas and salons. Their line consists of both retail and back bar products comprised of natural and organic ingredients. Visit southseasskincare.com for more information.