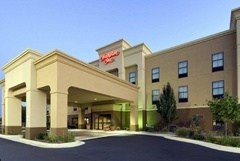 Chicago, IL (PRWEB) March 08, 2013
The hotel opened in 2004 and has a history of strong performance. It benefits from its proximity to Interstate 94 allowing the property to capture both transient and corporate business.
PLA's Brent Clemens, Bennett Webster, and Michael Kitchen worked collaboratively to represent the seller. The transaction marks Paramount's eighth successful Michigan engagement in the last five months and continues PLA's company-wide track record of one successful engagement per week since August 2012.
PLA took the property to market late last year utilizing the Auction.com online auction platform.
"Given our extensive work experience in Michigan and all of the state's sub markets in recent years, we were able to generate strong buyer volume to facilitate the bidding process," said Webster. PLA's Kitchen adds, "The quality of the brand coupled with strong performance yielded aggressive bidding and ultimately allowed us to surpass our clients pricing expectations. "
About Paramount Lodging Advisors
Paramount Lodging Advisors is a hotel advisory and brokerage firm specializing in the acquisition, asset management, debt and equity placement, and disposition of hospitality assets across the United States, Canada, & Europe. For more information about Paramount Lodging Advisors and to see hotels currently on the market visit http://www.paramountlodging.com