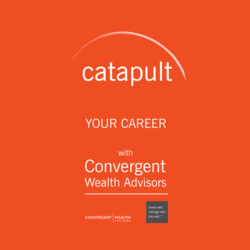 Catapult is the answer that so many independent advisors have been seeking.
Washington, DC (PRWEB) March 05, 2013
Convergent Wealth Advisors today announced a major new program, Catapult by Convergent™, for select independent advisors. This program targets registered investment advisors (RIAs) who would like relief from the burden of marketing, research, technology, reporting, compliance, and unsupported client service. With Catapult, advisors can focus their efforts on growing their income, gain the knowledge to successfully work with some of the nation's wealthiest individuals, and be a part of a top company that has ambitious growth plans.
The Catapult initiative signifies a new addition to Convergent's organic growth plans. This program is for top advisors with distinctive skill sets for the ultra-high net worth marketplace. The full suite of front- and back-office services provides the support system and team necessary to facilitate success.
"Catapult is the answer that so many independent advisors have been seeking," said Douglas Wolford, Convergent's president and COO. "Running a small advisor shop can be fulfilling—but also quite limiting. At some point, the time spent on administration becomes so great that advisors can no longer do what they love to do. We plan to let them offload those responsibilities to get back to what got them into this business in the first place."
Catapult's first year goal is to find a very few, highly qualified advisors to join the Convergent team. Advisors will be selected based on their specialized skill sets, the portability of their books of business, and their fit with Convergent's high performing team.
"Cultural fit, entrepreneurial passion, and niche skills are the essential ingredients," Wolford said. "Our aim is to build a better company—not just a bigger company. Our vision is to be the most trusted wealth advisor in this industry."
Convergent's two business units, Independence by Convergent™ (high net worth) and Convergent Wealth Advisors (ultra-high net worth), allow for a seamless client transition process for Catapult clients.
Wolford added that next week, a major new hire will be announced to head up this program.
About Convergent Wealth Advisors
Convergent Wealth Advisors is a recognized industry leader in wealth management, advising on over $10 billion in assets (as of December 31, 2012). Convergent provides investment consulting services and customized wealth management solutions to ultra-high net worth individuals and family offices with investable assets of $10M and more. Independence by Convergent™ is a division of Convergent focused on servicing clients with $500,000 and more in investable assets.
Convergent has offices in Washington, DC, Los Angeles, New York, and Portland, OR.
Media Contact: Douglas Wolford | 301.284.1112 | Doug(dot)Wolford(at)ConvergentWealth(dot)com
Non-deposit investment products are not FDIC insured, are not deposits or other obligations of Convergent Wealth Advisors, are not guaranteed by Convergent Wealth Advisors and involve investment risks, including the possible loss of principal.
Convergent is a majority-owned subsidiary of Convergent Capital Management, which is a subsidiary of City National Corporation (NYSE:CYN), the parent company of City National Bank.