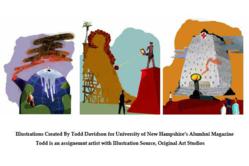 We are very proud of the work Todd Davidson has done for The University of New Hampshire.
New York, New York (PRWEB) March 06, 2013
Illustration Source, a leading provider of high quality stock and assignment illustrations to art buyers everywhere, congratulates Todd Davidson on his most recent assignment for The University of New Hampshire's Alumni Magazine.
The three images created for UNH's Alumni Magazine cover very diverse topics and are great examples of Todd's visual style: climate change, the developing technologies in the study of landslides and healthcare.
Todd is a member of Original Art Studios, the assignment arm of Illustration Source and also has a sizable stock illustration portfolio with us.
About The Company:
Illustration Source is a leading provider of high quality illustrations from the finest illustrators from all over the world. Illustration Source's collections provide top quality, cutting edge illustration.
SIS was founded in 1992. Illustration Source took over the business of SIS in 2010. The company is New York based and privately held. One of the major reasons for the success of the SIS collection through the years is its ability to gather a true international artistic community in which many of the artists and art buyers enjoy a congenial, creative and profitable relationship.