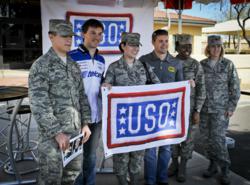 This is a busy time of year, but when I learned about the opportunity to volunteer with the USO again and visit troops in Arizona, I jumped at it," said Stenhouse Jr. "I had such a great experience .....
Arlington, VA (PRWEB) March 07, 2013
Twitter Pitch: Kudos to @NASCAR 4 sending @dnlsuarez and @StenhouseJr on @the_USO tour to Luke AFB!
ARLINGTON, VA. (Mar. 7, 2013) – NASCAR teamed up once again with the USO, donating 600 tickets to troops and their families, and sending two of today's youngest and most talented drivers on a morale-boosting USO visit to Luke Air Force Base on Feb. 28. Two-time NASCAR Nationwide Series champion and current NASCAR Sprint Cup Series driver Ricky Stenhouse Jr. and NASCAR rising star Daniel Suárez took a break from the race track and spent quality time with Arizona-based troops and their families prior to their races at Phoenix International Raceway (PIR) last weekend. ***Link to photos below***
DETAILS:

The NASCAR/USO visit was attended by airmen and their families stationed in and around Arizona. During the USO meet & greet, which took place outside of Club Five-Six at Luke Air Force Base, attendees posed for photos with the racing duo.
An avid supporter of America's armed forces, NASCAR began working with the USO in 2011. Since then, they have deployed two USO tours to Cuba, Kuwait and Germany and uplifted the spirits of more than 1,000 troops and military families.
NASCAR recently took their support of troops and the USO one step further, working with PIR to donate 600 tickets to two races last week in Arizona. Distributed to troops and their families by USO Arizona, the tickets covered free admission to the NASCAR Toyota (Mexico ) Series race (Mar. 1) and the NASCAR Nationwide Series Dollar General 200 Fueled by AmeriGas (Mar. 2).
This visit marked the first USO experience for Suárez and the second for Stenhouse Jr., who traveled on a tour to Kuwait and Germany last December and visited with more than 655 military personnel.
Born and raised in Mississippi, Stenhouse Jr. is the two-time and reigning NASCAR Nationwide Series champion. One of NASCAR's rising stars, Stenhouse Jr. is in his rookie NASCAR Sprint Cup Series season with Roush Fenway Racing.
Daniel Suárez was born in Mexico, and made his official NASCAR K&N Pro Series East debut in 2011. Now a member of NASCAR's "Next 9" initiative, he claimed his first Toyota Series win on May 12, 2012, in Mexico City and has two K&N East top-five finishes to his credit.
QUOTES:
Attributed to Ricky Stenhouse Jr.:
"This is a busy time of year, but when I learned about the opportunity to volunteer with the USO again and visit troops in Arizona, I jumped at it. I had such a great experience over the winter in Kuwait and Germany; there is nothing like shaking the hands of our men and women in uniform, and saying 'thank you' - whether you are here in the U.S., the Middle East or Europe. It is because of them that I was able to race in the Daytona 500 and that I get to live out my dream every day."
Attributed to Daniel Suárez:
"My first USO visit was such an awesome experience. The outpouring of appreciation of both the USO staff and military families was amazing and something I will not forget. I look forward to working with them again in the future."
MULTI-MEDIA:
Tour Photos (courtesy of Luke AFB): http://bit.ly/Zm7ICf
USO Fact Sheet: http://bit.ly/Y3YoUi
About the USO
The USO lifts the spirits of America¹s troops and their families millions of times each year at hundreds of places worldwide. We provide a touch of home through centers at airports and military bases in the U.S. and abroad, top quality entertainment and innovative programs and services. We also provide critical support to those who need us most, including forward-deployed troops, military families, wounded warriors and families of the fallen. The USO is a private, non-profit organization, not a government agency. Our programs and services are made possible by the American people, support of our corporate partners and the dedication of our volunteers and staff.
In addition to individual donors and corporate sponsors, the USO is supported by President's Circle Partners: American Airlines, AT&T, Clear Channel, The Coca-Cola Company, jcpenney, Jeep, Kangaroo Express, Kroger, Lowe's, Northrop Grumman Corporation, Procter & Gamble, and TriWest Healthcare Alliance and Worldwide Strategic Partners: BAE Systems, The Boeing Company, Lockheed Martin, Microsoft Corporation and TKS Telepost Kabel-Service Kaiserslautern GmbH & Co. KG. We are also supported through the United Way and Combined Federal Campaign (CFC-11381). To join us in this patriotic mission, and to learn more about the USO, please visit uso.org.