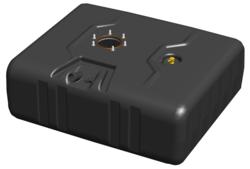 "Since 1999, we've replaced a lot of steel fuel tanks on Econoline cut-away vehicles due to delamination problems," --Greg Vice, Kenny Vice Ford
Indianapolis, Ind. (PRWEB) March 06, 2013
Titan Fuel Tanks, the leading manufacturer of high-performance, engineered, polymer aftermarket fuel tanks, released details on its 8020199, cross-linked polyethylene, replacement fuel tank at the 2013 NTEA Work Truck Show in Indianapolis, Ind. The new tank is designed up fit 1999-2010 Econoline diesel cut-away cab and chassis vehicles and eliminates the widespread issue of diesel fuel line contamination resulting from lining delamination in original equipment and aftermarket fuel tanks made of steel.
Titan's solid polymer tank bodies are immune to the effects of the diesel, bio-diesel and fuel additives that are routinely blamed for causing the degradation of the protective linings of steel fuel tanks. Constructed of the finest military-grade, cross-linked polyethylene (XLHDPE), Titan's replacement tank is compatible with most blends of bio-diesel fuel. Polyethylene is much lighter than steel and 200 times less thermal conductive. The polymer's insulating properties eliminate condensation.
"Since 1999, we've replaced a lot of steel fuel tanks on Econoline cut-away vehicles due to delamination problems," said Greg Vice, principle and service manager for Kenny Vice Ford in Ladoga, Ind. "Now we can provide customers with a reasonably priced, reliable, long-lasting alternative to the steel replacement tanks that were the 'only choice' until now."
The interiors of original equipment and aftermarket steel tanks are generally lined with a coating that is known to deteriorate in the presence of agents and additives within many diesel and bio-diesel fuels. Once the steel tank linings begin to decompose, they can cast particulate matter into the fuel source, which can ultimately cause pumps, filters and injectors to fail.
Ford has ruled tank delamination to be fuel-related and as such, does not cover it under the company's warranty policy. If diesel fuel contamination is detected during the process of servicing the vehicle, warranty compliance can only be regained by replacing all affected components. Repair costs can be daunting, and if a steel replacement tank is used, the problem and additional repair costs might be destined to reoccur.
"Delamination is a major source of concern for a number of the Ford fleets we service," said Michael Pahlas, service manager for Columbia Ford in Columbia, Conn. "Titan's engineered cross-linked polyethylene replacement fuel tanks have been helping us prevent delamination from reoccurring in Ford F-350, F-450 and F-550 cab and chassis vehicles and diesel-powered E-Series Vans, and we're excited to see the new Econoline cut-away version become available."
The new 55-gallon tank is designed to replace the Econoline's OEM tank. Like Titan's entire line of polymer replacement fuel tanks, the new tank weighs much less, won't corrode and features a rollover vent valve with a vent hose, as well as a convenient drain plug.
The tank comes in the form of a comprehensive replacement kit and will start shipping to customers on or about May 1, 2013. Installers can reuse most of the vehicle's stock components, including the original tanks' sending unit. Replacement skid plates, straps and ancillary components can be obtained from any Ford dealership. Like all Titan replacement fuel tanks, the new cut-away tank is backed by Titan's exclusive limited five-year warranty.
Titan specializes in designing innovative aftermarket fuel tank solutions and has invested in a staff of fuel tank engineering experts. The company serves the needs of fleets and other end-users of Ford, GMC, Chevrolet and Dodge brands. Titan's engineering process includes the use of sophisticated finite element analysis (FEA), which enables operators to simulate a full complement of dynamic stresses on individual components and on the system as a whole. Simulations often include virtual crash testing, off-road strain and accelerated aging.
Titan's cross-linked polyethylene tank is designed to replace the following original Ford Econoline cut-away equipment part numbers:
Years 1999-2001: 2C2Z9002A
Years 2002-2003: 2C2Z9002EB
Years 2004-2008: 7C2Z9002F
Years 2009-2010: 9C2Z9002F
The original equipment steel tanks are found on a wide variety of vehicles built on the 1999-2010 Econoline diesel cut-away cab and chassis platform, including box trucks, ambulances and Class-C recreational vehicles.
Titan Fuel Tanks are sold in the United States, Canada and Australia, and a dealer locator is available at: https://titanfueltanks.com/dealers
To access high-resolution images of Titan's innovative new cross-linked polyethylene fuel tank, please visit: http://www.titanfueltanks.com/gallery

Editors Note:
About Titan Fuel Tanks
Based in Idaho Falls, Idaho, Titan Fuel Tanks engineers and manufactures ultra-durable, extra-capacity aftermarket fuel tanks made from advanced military-grade, cross-linked polyethylene. Titan offers a broad selection of replacement fuel tanks, designed to seamlessly integrate with and extend the fuel capacity and driving reach of a broad range of truck models, including Ford, GMC, Chevrolet and Dodge vehicles. Titan serves the aftermarket fuel tank needs of the United States, Canada and Australia, and is recognized as an innovator in aftermarket fuel tank design. Titan's engineering staff employs the latest technology in its design process, including finite element analysis (FEA). To learn more about Titan Fuel Tanks, please visit: http://www.titanfueltanks.com
Titan is a trademark of Supertanks, LLC.