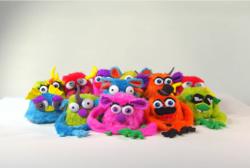 Springville, UT (PRWEB) March 06, 2013
Colored eggs, marshmallow chickens and...monsters? That's right! If you're looking for a unique gift to stuff into your child's Easter basket this year, Puppet Monsters – the new, adorable, wearable stuffed toy with interchangeable parts – are the perfect choice. Kids can while away the hours dressing up with their new furry friends and even performing as their favorite Puppet Monster. And, since children need only put the puppet on their heads and their fingers inside the puppet's hands to be ready to play, no batteries are required.
"This is a toy that truly runs on your child's imagination," said Gary Sandberg, DRTV Campaign Management Director at Infomercials, Inc., which created the fun video showcasing Puppet Monsters and the creative playtime they inspire. "Kids get more than enough sugary sweets in their baskets. This year, why not add something that keeps them moving and supports interactive family time? Whether a child is playing alone or with others, Puppet Monsters provide hours of fun!"
Puppet Monsters also have a secret: Their easily interchangeable parts let kids create any monster they want!
Reviewers Share Stories on Watching Children's Imaginations Come to Life with Puppet Monsters
Puppet Monsters have proven to be an interactive toy that piques the creativity of young minds. According to professional toy reviewers like Courtney Hutson of "One Bored Mommy", a blogger who has been covered by The Nate Berkus Show, The Talk on CBS, Dr. Oz., the Lifetime Network show 'The Balancing Act' and Parents.com, Puppet Monsters entertain both kids and parents. In a Puppet Monsters review, Hutson said: "We received 'Jumbo Eyes' and our youngest son was immediately in love! It was, what some call, 'at first sight.' He was curious how he worked, what he did, etc. It was fun to explain to him...that making him work was totally up to him...because he needed his imagination and creativity to come together and function. Once he figured it out...and how to put his Jumbo Eyes together the way he wanted him to look...they had a blast together. Even the dogs were intrigued by this new Puppet Monsters puppet."
The parent product reviewers at the "Networking Witches" blog also shared in a review that, "Although my youngest is 10 he hasn't outgrown stuffed animals or playtime and it's fun to watch him and his friends to play and act silly. The new Puppet Monsters in our house are a lot of fun and my son has found a lot of uses for his…With Easter just around the corner I've been looking for some inspiration and I found it with the Puppet Monsters."
Puppet Monsters have interchangeable eyes, ears, noses, horns and arms, among other accessories. Kids can share and swap Puppet Monsters' body parts, letting them "mix and match" to create any character they dream up. Each wearable Puppet Monster has dozens of tiny holes on the inside for attaching parts, similar to fastening buttons and easy for children to do on their own. Storage is also convenient with all parts fitting inside the puppet — and, they're machine washable, too.
Order Puppet Monsters Online
Puppet Monsters are available in the following wearable models, each at the affordable price of just $19.95 (plus $6.95 shipping and handling): Silly Dragon, Dizzy Antlers, Big Beak, Twinkley Eyes, Jumbo Eyes and Mr. Mustache. One additional accessory kit is available free with each Puppet Monster purchased – pay only an additional $6.95 processing and handling fee. Choose from the following accessory kits: Funny Duck, Furry Octopus, Funky Mohawk, Wacky Bear, 3 Eyed Monster and Hot Lips. A 60-day money-back guarantee backs up the quality and value of every Puppet Monster sold. Orders can be placed online at http://www.buypuppetmonsters.com.
# # #