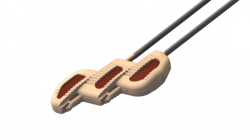 Minneapolis, MN (PRWEB) March 06, 2013
Vertebral Technologies, Inc. (VTI), a spinal implant developer and manufacturer, announced today that the InterFuse T™ implant is now commercially available in Canada.
"Vertebral Technologies is excited to announce the commercial launch of the InterFuse T™ in Canada," said Jeffrey Felt M.D., Chairman and CEO of VTI. "The team at VTI has done a tremendous job of creating a product that allows surgeons to use the familiar and popular TLIF approach while achieving a larger footprint than current devices allow." Similar to the InterFuse S™, this is accomplished by building a cage inside the disc space with three interlocking PEEK modular segments. The implant may be placed by a minimally invasive technique through a tube or via a mini-open technique. In addition to the TLIF product, the company also offers the InterFuse S™ device, which is implanted from a posterior approach. Furthermore, VTI also offers the InterFuse DA™, a modular ALIF device.
Vertebral Technologies is working with Joint Solutions Alliance Corporation of Burlington, Ontario, Canada to distribute the InterFuse® System (both the InterFuse S™ and InterFuse T™ devices).
About Vertebral Technologies, Inc.
Vertebral Technologies, Inc. is a privately held company developing and commercializing improved and less-invasive spinal devices. The company received 510(k) clearance from the U.S. Food and Drug Administration (FDA) to market the InterFuse®, an interbody fusion device, in June 2008. The fusion device is sold through a national distribution network. For additional information contact JaNahn Williams at 952.912.5400 or visit http://www.vti-spine.com.