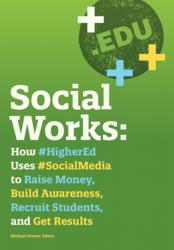 a must-read for every higher education PR leader, alumni director, fundraiser, and marketer alike.
Chicago, IL (PRWEB) March 25, 2013
Leading higher education marketing firm mStoner recently released Social Works: How #HigherEd Uses #SocialMedia to Raise Money, Build Awareness, Recruit Students, and Get Results, the first comprehensive guide to creating and launching social media campaigns in higher education.
This groundbreaking book unveils 25 in-depth case studies and insights from dozens of experts on how colleges and universities have used social media for fundraising, student recruiting, general awareness, and other major campaigns. In Social Works, industry leaders and their teams will also find best practices and experiential knowledge that will guide them as they tackle important projects at their own institutions.
In all, 17 authors contributed case studies to Social Works, some of them reporting on initiatives they created and launched at their institution. Some of the topics include:
How American University rolled out its WONK campaign using social media
How Florida State University raised more than $186,000 in a social-powered campaign
How gamification and the use of Facebook boosted attendance at Johns Hopkins alumni reunions
How Madison College used a social campaign to help persuade voters to pass a bond issue in a challenging election environment
How Oregon State University developed and launched a multi-channel image-building campaign, Powered By Orange, built on a social foundation
This book fulfills a need in higher education, according to Michael Stoner, mStoner's president and co-founder and the editor of Social Works.
"We kept hearing from clients and colleagues about their need for models of successful multi-channel campaigns built around a core of social media," Stoner said. "A lot of practitioners want to find out what's worked - and what hasn't. And it's always useful for leaders to know that other institutions have used social media to accomplish institutional goals. Because there wasn't good information available, we decided to put together this book," Stoner said.
Industry leaders who have reviewed the manuscript were enthusiastic about what they read. Michael L. Warden, APR, the vice president for institute communications at the Georgia Institute of Technology, called Social Works "a must-read for every higher education PR leader, alumni director, fundraiser, and marketer alike."
OmniUpdate, Inc. President and CEO Lance Merker commented, "Social Works is a social media cookbook filled with creative ideas and mouth-watering illustrations in the form of case studies from colleges and universities across the country."
mStoner proudly thanks the dozens of contributors and experts whose time and talent made Social Works possible.
Social Works is now available in Kindle and iBook format, and you can find more information online at http://eduniverse.org/socialworks.
Michael Stoner co-founded mStoner, Inc., a marketing communications agency focusing on higher education web strategy and development. Michael led the first web strategy projects in .edu (and mStoner has done more of these projects than any other company); has written extensively about marketing, communications, social media and technology topics for journals, newspapers and magazines (and on mStoner.com/blog since 2003); and has presented hundreds of conference sessions and workshops. Find him online at mStoner.com; at Linkedin.com/in/mstoner; and @mstonerblog.