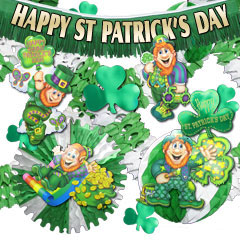 Chicago, IL (PRWEB) March 06, 2013
In the U.S., the first half of the month of March is usually filled with St. Patrick's Day celebrations of all sorts. Cities and towns across the U.S. will host parades, festivals, and barcrawls all leading up to the actual holiday on Sunday, March 17th. The city of Chicago consists of a large Irish-American population, and therefore is one of the cities in the U.S. that celebrates the holiday in a big way. The city hosts several parades and dyes the Chicago River green every year. In honor of the joyous holiday, Chicagoland online party supplies retailer, Windy City Novelties, has recently expanded its St. Patrick's Day Party Supplies product line.
Although St. Patrick's Day is deemed an Irish holiday, the truth is that the people of Ireland do not celebrate the holiday to the same extent that Americans celebrate it. The people of Ireland would celebrate St. Patrick's Day as a religious day to honor Saint Patrick. When the Irish immigrants came to America, they were perceived as poor and unemployed individuals and were treated unfairly by Americans. Because of that, they came together to support one another and celebrated St. Patrick's Day as a day of Irish pride.
Throughout the years, St. Patrick's Day was not only celebrated by Irish-Americans, but by all Americans. Cities all over the country, especially with large Irish-American populations, host huge celebratory events the weekend before St. Patrick's Day, along with the weekends leading up to the holiday. For bars and restaurants across the U.S., St. Patrick's Day is one of the most profitable events. According to an infographic from H&R Block, St. Patrick's Day is the second "booziest" holiday in the U.S., just after Mardi Gras. Unlike other holidays that are typically spent at home, St. Patrick's Day draws people to go out to celebrate. Last year consumers were expected to spend $4.6 billion on St. Patrick's Day, including decorations, apparel, and alcohol consumption.
Windy City Novelties' allows bars and restaurants to decorate for the holiday with their St. Patrick's Day Decorations and Party Supplies. The St. Patrick's Day Party Pack is ideal for bars and restaurants hosting celebrations because it comes with party supplies—hats, tiaras, horns and leis—for 50 people. Windy City Novelties also provides St. Patrick's Day Decorating Kits for quick and easy decorating. Apart from bars and restaurants there are plenty of party supplies for individuals looking to decorate their homes or office space. Individual party supplies consisting of banners, cutouts, table cloths, table centerpieces, and St. Patrick's Day themed string lights. Party goers can get in on the fun and search the site for St. Patrick's Day costumes, hats, green suspenders, green mustaches, and other St. Patrick's Day apparel. In order to purchase consumers must simply visit Windy City Novelties' site and browse the St. Patrick's Day Holiday Section.
About Windy City Novelties
Windy City Novelties, a party supply company founded in 1983, is known for their great selection and competitively priced items. They have an A+ rating from the Better Business Bureau and are also a NexTag 5 star Seller. From their website, windycitynovelties.com, they offer fast and friendly shipping along with great customer service. From glow sticks in every color of the rainbow, to party decorations in a variety of themes, and even a vast selection of Halloween costumes at the best prices, Windy City Novelties has over 15,000 products and adds more each week. Windy City Novelties also provides party and gift ideas and advice. For help or more suggestions, email our experts.