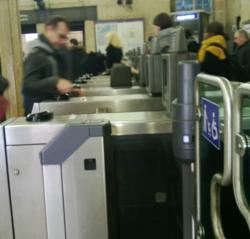 if 20% of passengers are getting incomplete journey charges, then a staggering 750,000 people each month could be overcharged on their Oyster card
London (PRWEB UK) 7 March 2013
Transport for London (TfL) insist Oyster card users must touch in and out on every journey to obtain the correct and best fare. Maximum fares are in place to deter fraud and ensure that users validate their cards properly. A maximum fare of £7.20 is charged to the Oyster card on the first tap (even if this is on an exit) and is reduced to the correct fare when the journey is completed with a second tap. If no second tap is recorded then the maximum fare remains on the account.
The Chair of the London Assembly's Transport Committee Caroline Pidgeon's analysis of 2011 TfL data in May 2012 identified £64 million was charged to Oyster pay as you go card holders, where the tap in tap out system did not register a complete journey.
London Travel Watch, the London Assembly official watchdog for London transport users identified approximately £10 million of maximum fares were refunded to customers in 2011, less than a quarter of the maximum charges applied.
The data for incomplete journeys in 2012 is unavailable. When Caroline Pidgeon requested the 2012 figures, TfL declined stating "compiling it would take in excess of 18 hours and so exceed the 'appropriate limit' for Freedom of Information Act requests". A copy of the response is attached.
London Travel Watch analysis of 2011 shows that 80,000 incomplete journeys occurred each week for pay as you go Oyster cards 54,400 of which were never resolved, leaving passengers with a maximum fare charged to their Oyster account. A copy of the report is attached.
In December 2012 the Oyster online site introduced a new feature, where registered Oyster card holders could see if an overcharging incomplete journey occurred, this allows the user to complete the journey information and receive the overcharge refund back onto their Oyster card.
However it does not provide a notification service to let the registered card holder know when an incomplete journey has occurred. Meaning the user has to regularly check to see if this has happened. Many passengers are completely unaware this feature exists or even whether they have been overcharged or not.
The ClaimMyRefund.co.uk system sends an email alert when an incomplete journey is detected and since its introduction, 1 in 5 of ClaimMyRefund.co.uk customers have received a notification that they have been overcharged.
"This shows that the overcharging of passengers on the London Underground and DLR is still a very big problem," states Devin Smith, creator of ClaimMyRefund.co.uk "Using current passenger figures from TfL, if 20% of passengers are getting incomplete journey charges, then a staggering 750,000 people each month could be overcharged on their Oyster card and many wouldn't even know it".
Devin Smith created ClaimMyRefund.co.uk after experiencing delays on London Underground and becoming frustrated with the laborious refund process. The fully automated service provides tube and DLR journey delay refunds for Oyster card holders, by monitoring their Oyster online journey history, identifying and submitting refund claims on their behalf. It also monitors members accounts to capture incomplete journeys and notifies them when a refund is due.