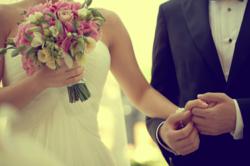 Newport Beach, CA (PRWEB) March 06, 2013
As more people jump on the Pinterest bandwagon, so too do wedding vendors, discovers Wedding.com. The growing website is quickly gaining popularity for both brides and vendors alike, giving it a steady footing in the current wedding industry.
Pinterest is used as a collection of online inspiration boards, and as such, increasing numbers of brides are gathering their wedding ideas on there and sending the boards directly to their vendors (http://m.wbtv.com/autojuice?targetUrl=http%3a%2f%2fhttp://www.wbtv.com%2fstory%2f21502098%2fpinterest-replaces-old-fashioned-wedding-planning). Wedding.com experts believe Pinterest is a revolutionary tool for vendors to encourage brides to use when expressing their wedding vision, resulting in more accurate and satisfactory services.
"Anytime a vendor can be given a clear picture of what kind of wedding a bride is looking to have -- color scheme, design, decor --, they can better customize their services to fit the bride's needs," says Brett Reynolds, CEO of Wedding.com. "For brides who are wary of saving their inspirations on an online platform, it is still possible to show your vendors what you want. Just print or cut out pictures from magazines and the like. It is as simple as creating a physical inspiration board instead of one online."
For more information about Wedding.com, please visit http://www.wedding.com.
About Wedding.com
Wedding.com is an innovative new website that connects engaged couples planning their wedding with wedding vendors looking to grow their business. Wedding.com contacts vendors for couples, giving them the power to compare and negotiate while ultimately saving time and money. With 12,000 couples and 22,000 vendors currently using the website, 105,000 proposals have already been sent since their inception. Vendors range in services from wedding planners, photographers, florists, and DJs to custom invitations, party favors, and much more. For additional information about the company and its services, please visit http://www.wedding.com.