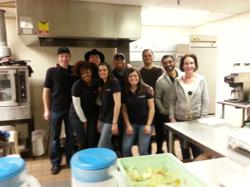 With more and more people in our community experiencing economic stress, our volunteers make it possible to meet the needs of families and individuals every step of the way
Herndon, VA (PRWEB) March 06, 2013
Windward IT Solutions, the pioneer in Service-Centric IT solutions, continues to celebrate it's fifteenth anniversary by sending a team of employees to the Embry Rucker Community Shelter, part of Reston Interfaith, to volunteer in their soup kitchen and to lend a hand during their Saturday dinner service. Windward understands the hardships faced by many individuals during these trying times and recognizes the importance in helping those in our community on both an individual and corporate level.
The Embry Rucker Community Shelter provides safe emergency housing for families and individuals and are dedicated to help people overcome the circumstances that led to their homelessness and facilitate their transition to stable housing. "It was a pleasure to have the employees of Windward IT Solutions here as guest servers. We are always happy to engage the business community in volunteering with us, as it affords them the opportunity to see first-hand the work we do, and how great the needs of the homeless are in our community," said Susan Alger."We are hoping to involve the team at Windward for future events and appreciate their commitment to those in need. With more and more people in our community experiencing economic stress, our volunteers make it possible to meet the needs of families and individuals every step of the way."
Windward hopes to expand our relationship with Reston Interfaith by volunteering on new projects and initiatives. "Volunteering and supporting the communities where our employees live and work is an important part of our mission" said Sean McDermott, Windward IT Solutions CEO and Founder. "For this reason we maintain an internal Employee Volunteer Committee that works very hard to build strategic partnerships with nonprofit organizations focused on long-term and meaningful results, knowing that we can really make a difference"
ABOUT RESTON INTERFAITH
Since 1970, Reston Interfaith, a nonprofit, has reached out to 250,000 neighbors-in-need, helping them overcome tough economic times in an already high cost-of-living region. Through advocacy and support services, we connect our clients to the vital resources they need to help build more stable families and self-sufficient lives and provide a comprehensive array of programs that solve urgent or on-going requirements for housing, childcare, food or financial assistance. http://www.restoninterfaith.org
ABOUT WINDWARD IT SOLUTIONS
Founded in 1997, Windward IT Solutions is at the forefront of Service-Centric IT. With strategic consulting, unparalleled technical expertise, and our proven Windward Service-Centric IT Roadmap, we help our clients align the core competencies of process, organization, information, and technology to effectively address business and mission priorities. Windward offers a proven set of technology-independent solutions focused on the three core disciplines of Service-Centric IT – Service Management, Infrastructure Management, and Operations Management – to help our clients plan and deliver high-impact IT services. Windward is headquartered in Herndon, VA. More information on the company can be found online at: http://www.windwardits.com.