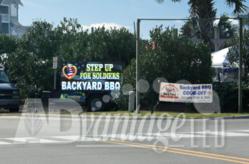 We make sure that our special mobile memorial stands out to create attention and recognition for these special heroes. The sign provided by ADvantage LED helped tremendously." Step Up For Soldiers spokesperson Shannon Spicknall
Houston, TX (PRWEB) March 06, 2013
ADvantage LED Signs recently announced they have partnered together with Step Up for Soldiers to provide an LED Sign Demo trailer for various fundraising events. The most recent event, a BBQ Cook-Off, was the first of many events to come, says ADvantage LED Signs spokesperson Richard James. ADvantage LED donated the LED Sign Trailer to the organization and programmed content messages specific to the event with employee Derek Sharpe on site to assist with setup and proper operation of the sign.
Step Up For Soldiers is an all-volunteer group who provides renovations, recreation, and recognition for recently disabled veterans. The organization provides disabled veterans who have experienced the loss of limbs and are experiencing mobility problems with the resources necessary to adjust in post-war environment.
Because of the events and fundraisers, Step Up For Soldiers spokesperson Shannon Spicknall, says "we are able to enhance the soldiers' lives and those of their families and also help to restore their confidence and positive self-image. We serve all five branches of the military and the purpose of the organization has expanded to provide funding to soldiers who need financial assistance as well as home modifications, family support and more."
Speaking of their public awareness efforts, Spicknall also adds, "Raising awareness and visibility for our heroes is an important byproduct of our efforts. We consistently become involved with and host public events such as parades and golf tournaments. We make sure that our special mobile memorial stands out to create attention and recognition for these special heroes. The LED sign provided by ADvantage LED helped tremendously."
James explains the partnership, saying, "ADvantage LED wants to show our support for our soldiers and all that they do to ensure freedom. We are excited to be partnering with Step Up For Soldiers in the future too, as they have already requested the use of the LED Sign trailer for several more events throughout the year. "
ADvantage LED Signs has a full line of outdoor LED sign products for any and all organization or business applications. They provide message signage for companies such as churches, schools, government buildings, car washes and hotels across the country.
About ADvantage LED Signs:
Established in 2009, ADvantage LED Signs is a US manufacturer of LED signs and LED Billboards, selling direct to businesses and organizations nationwide. ADvantage LED Signs operates as a total turn-key solution provider, stating that no job is too big or too small. ADvantage LED Signs brings to the market a wealth of business on-site advertising expertise that is unmatched. ADvantage LED Signs provides exceptional concept design, site survey, permitting, identification cabinet production, led sign production, installation, training, and lifetime support services.