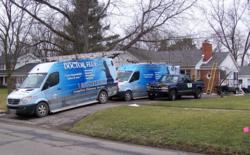 Thank you for this kind service you are providing for those in need.
Tecumseh, Michigan (PRWEB) March 07, 2013
Doctor Flue, inc® donates a wood stove or chimney cleaning, to a family or individual in need several times each year. The donation includes installation, all parts, tax, and labor. The chimney cleaning and fireplace installation company receives many nominations each month for this gift.
The most recent recipient is Tamara Ball. Tamara Ball recently lost her husband to a neck cancer, and works full time to support her two young children, Emma and Parker. A family friend nominated Tamara to receive Doctor Flue, inc®'s "Gift of Heat". He referred to Tamara as "a very loving and considerate person, always giving of herself to family, friends, church, and community." The nominator also stated, "Please consider this sweet family as candidates for your services. They are going through a rough time and are unable to pay for the repair costs because of overwhelming medical bills. Thank you for this kind service you are providing for those in need."
Owner, Kevon H. Binder, aka "Doc", installed the stove in two stages on separate days, so that "the installation would go smoothly, without any hiccups." The first day, Doc and his crew removed the current clay tile lining. On the second day, the new fireplace insert was installed and pre-insulated with a stainless steel liner. A stainless steel chimney cap was also installed to prevent rain and animals from entering the chimney. The job was completed when trim panels were added.
Doc lit the first fire, and educated Tamara and her family as to proper burning practices and operation of the stove from combustion air to the bypass damper, and the blower operation.
The nominated family now has a source of heat that is not dependent on paying any fuel bill, to any utility company. Previously, Tamara kept the thermostat on 60°. Within two hours, the home reached 72°, and will stay there for the rest of the heating season.
Doctor Flue inc®'s Warm Homes, Warm Hearts program accepts nominations online throughout the year. For more information about Warm Homes, Warm Hearts, visit Doctor Flue inc®'s website at http://www.doctorflue.com or view the Warm Homes, Warm Hearts page at http://www.doctorflue.com/warm-hearts-and-homes.php.
Kevon Binder, Sr. and his wife, Valerie, established Doctor Flue, inc in 1986. The company employs CSIA Certified Chimney Sweeps to handle all chimney service needs, including safety inspections, chimney sweeping, chimney relining, chimney repairs, wood burning or gas fireplace repairs and installations, and more.
To learn more about Doctor Flue, go to http://www.doctorflue.com, call Doctor Flue at (800) GET-FLUE, or email the company at office(at)drflue(dot)com.