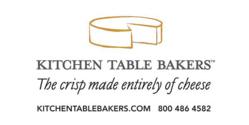 Syosset, NY (PRWEB) March 08, 2013
Gluten-free living shows no signs of letting up in 2013, and in fact, growth of gluten-free eaters seems to be increasing. In 2012, fully 18% of adults followed a gluten-free lifestyle, according to a report from Packaged Facts. And a February 4th New York Times story titled, "Gluten-Free, Whether You Need It or Not" noted that the trend is showing signs of going mainstream as many are choosing to go gluten-free as a means to simply feel better.
Accordingly, the gluten-free lifestyle will be a key focus of exhibitors at the 2013 Natural Products Expo West show in Anaheim, Cali. from March 9 to 11, with food producers showcasing offerings that, unlike some gluten-free products of recent years, don't require customers to trade off taste to avoid gluten.
Kitchen Table Bakers, the makers of 'the crisp made entirely of cheese', will be exhibiting at booth #5291, where they will be featuring their multi-award winning 100% Parmesan cheese crisps. The delicate, intensely flavorful crisps satisfy the craving for a delicious, crunchy, salty snack, with a taste sensory experts call 'umami', something that is very difficult to achieve with a gluten free recipe.
"Over the last decade we have managed to keep our 100% Aged Parmesan Crisps at the forefront of the gourmet market by consistently demonstrating our commitment to bake with only the finest, all-natural ingredients," says Vice President of Kitchen Table Bakers, Seth Novick. "Our very precise recipe keeps our entire product line free of gluten, wheat, sugar and trans-fats, and offers a taste and texture like nothing else currently on the market. Besides being gluten-free, Kitchen Table Bakers' parmesan crisps have a low glycemic index, contain 20% of our daily calcium requirement and seven grams of protein. It's a unique product with unique healthy benefits, that really doesn't require any compromise from the gluten-free eater."
The line of 100% Aged Parmesan Crisps, which spans nine flavor varieties, has been recognized by food authorities including the Specialty Food Association. The SFA has awarded Kitchen Table Bakers 10 sofi™ Awards– the most coveted recognition in the specialty food industry – in just the last four years. The crisps have won in the following categories: "Most Outstanding Diet and Lifestyle Product" for 2009, "Most Outstanding Cracker" for 2010 and 2011, and "Most Outstanding Food Service Item" for 2011.
"The success of our product is largely due to the fact that we have made available a gluten-free item that is addictively delicious, healthy and guilt-free that the whole family can share," says President of Kitchen Table Bakers, Barry Novick. "Our product isn't a watered down compromise of what consumers really wants. They are deeply rich in flavor and satisfying while at the same time providing a healthy gourmet delicacy to those who by choice or necessity follow a gluten-free and or low-carb life style. It's a win-win for the consumer."
To learn more about Kitchen Table Bakers and their role in the gluten-free and gourmet markets with the success of their 100% Aged Parmesan Crisps, please visit booth #5291 at the 2013 Natural Products Expo Show in Anaheim, Calif. March 9 to 11. For additional information, please visit http://www.kitchentablebakers.com or http://www.facebook.com/kitchentablebakers.
# # #
About Kitchen Table Bakers
Kitchen Table Bakers, founded in 2003, crafts nine varieties of gourmet Parmesan cheese crisps, including Aged Parmesan, Sesame Parmesan, Rosemary Parmesan, Italian Herb Parmesan, Garlic Parmesan, Jalapeno Parmesan, Everything, Basil Pesto Parmesan and Aged Parmesan Mini Crisps. All Kitchen Table Bakers products are gluten, wheat and sugar free. The company's products have been recognized by the National Association of the Specialty Food Trade (SFA) with six silver sofi awards and four gold sofi awards, which acknowledge the best food and beverages the specialty food trade has to offer. To learn more, visit http://www.kitchentablebakers.com.