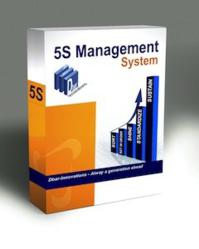 "The 5S System Management Software made it easy to keep the methods of 5s on track from beginning to sustaining 5s in all areas of our business."
Lake Oswego, OR (PRWEB) March 11, 2013
A 5s program is one of the most efficient manufacturing methodologies. A company that wants to be successful and competitive cannot afford not to execute a 5S program in the production process. By following the methods of a 5S program, a business can achieve results that will make surroundings a better place to work and offer a safer working environment. 5stoday.com is now offering a system management software kit that will get any business started on a 5s program and keep a business on track with special control mechanisms that are easy to use and understand.
The software includes a road map guidance for each of the 5s levels which are sort, set in order, shine, standardize and sustain. Printable checklists and audit sheets for displaying activities to be completed are included along with managerial access to see 5S progress and status for each work area. Workers will be encouraged to sustain the 5S efforts on a daily basis once the 5s methods are put into place.
The software will include lean tools that will help make facilities run more efficiently and become more productive with less manpower and production work time. Analysis calculators are included for both process and inventory identifications and brainstorming information is also included along with maps for Macro, Process, Lay-Out, Functional and Value Streams.
The system management software includes red tag information to help manage 5S red tag inventory and control. The user will be able to track, manage, and control asset movement and disposition and will automatically flag the 5s manager when red tagged items are due for disposition.
The system provides a single user to access all tools and systems by inputting all data and will be able to manage all aspects of the 5s deployment from one computer. The user can provide 5s activities for every employee that plays a part in the company's 5s program. Management staff and the chief of finances will be able to see what 5S progress is being made in each work area and management can track and control methods for managing red tagged assets.
A business owner commented, "The 5S System Management Software made it easy to keep the methods of 5s on track from beginning to sustaining 5s in all areas of our business."
For more information about 5S System Management Software, please visit http://www.5stoday.com/ or call toll free (866)402-4776 to speak with a professional representative.