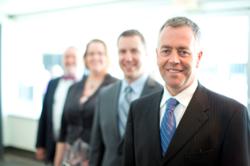 Leadership is a potent combination of strategy and character
PALM HARBOR, FL (PRWEB) March 06, 2013
Longtime Nationwide Title Clearing, Inc. (NTC) employee, Michael O'Connell, was recently promoted to Chief Operations Officer (COO). NTC is a leading post-closing services provider for residential mortgages and O'Connell has been with the company for eight years, leading the sales and client relations teams.
NTC has made a name for itself by reinventing the mortgage assignment document process for the betterment of borrowers, homeowners, land records and the industry at large. NTC employees are consistently working towards improving the document services industry.
As COO, O'Connell will be responsible for the daily operation of NTC's delivery divisions totaling the majority of their 300-plus employee workforce. In addition to collaborating with and reporting to CEO John Hillman, O'Connell will be accountable for ensuring that NTC operations are of the highest quality and the company remains efficient.
"Leadership is a potent combination of strategy and character," commented O'Connell. "Working at NTC has taught me both over the years and I plan to be a competent leader in my new position."
O'Connell will be responsible for the company divisions of client relations, finance, services delivery including all research services and document production, and overall quality control.
At the direction of the CEO, O'Connell will develop productive uses of company resources with the aim of creating maximum value. He will drive performance measures for company operations, while also ensuring the highest level of services being delivered to customers. O'Connell will regularly conduct analyses of systems and procedures to ensure that NTC is operating at the highest possible quality without sacrificing efficiency, and with the clients' best interests considered.
O'Connell's new role is consistent with the company's obsession with exceptional quality, which is driving their current expansion. NTC was recently recognized for the number of employees hired in the past three years and earned a spot on Inc. Magazine's 2012 Hire Power Awards. NTC has been hiring in order to accommodate the steadily increasing demand for their services.
For more information on Michael O'Connell and Nationwide Title Clearing, visit http://www.nwtc.com.
About Nationwide Title Clearing, Inc.
Based in Palm Harbor, Florida, and founded in 1991, Nationwide Title Clearing, Inc. (NTC) is a privately-owned leading service provider to the residential mortgage industry, serving mortgage lenders, servicers and investors, including eight of the top 10 residential mortgage servicers in the country. NTC earned the position of #2,730 on the 2012 Inc. 5000 list of fastest-growing private companies in America, ranking #36 in Tampa and #46 in the real estate industry. The company's land records and document experts are able to track and fulfill county document requirements for close to 3,600 recording jurisdictions nationwide. NTC specializes in providing land records research, lien release services, assignment services, final document tracking, document retrieval and other custom business solutions. For more information, visit the company's website at http://www.nwtc.com.