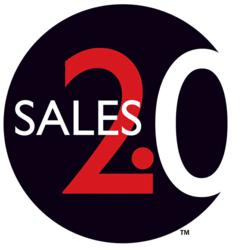 Training has always been a critical component of an overall success strategy.
Santa Cruz, CA (PRWEB) March 06, 2013
The Sales 2.0 Conference is offering a one-day sales training workshop on April 10 in San Francisco at the Four Seasons Hotel from 8:30 to 11 a.m. PT. Sales leaders and sales professionals can register online for the workshop as a standalone event on April 10, or as part of general admission registration to the Sales 2.0 Conference on April 8 and 9.
The workshop, Sales Training: Strategies and Best Practices for a Consistently Successful Sales Organization, will be led by Matt Heinz, President of Heinz Marketing, and David DiStefano, President and CEO of Richardson.
The workshop will focus on instituting sales training as a daily practice within companies. As a result, sales reps can build a strong, stable foundation on which to nurture and develop deeper relationships with clients -- helping to generate leads and lift revenue.
"Training has always been a critical component of an overall success strategy for sales organizations," says Sales 2.0 Conference host Gerhard Gschwandtner. "They either invest too little in training, or they fail to put processes in place to make sure training sticks."
Heinz will cover a strategy to help businesses block off teachable, trainable moments that can take a mere minute every morning. Over time, these crucial tips and advice can add up, ensuring that reps are encouraged and united with clear goals in mind that support the company's mission.
"The best sales organizations – those that consistently exceed expectations and retain their best reps – make sales training a regular, weekly discipline," said Heinz in a recent blog post, 'Six Ways to Invigorate Your Sales Training Program.' "Training is ingrained in how they do business and tied to constant achievement."
"The reinforcement of sales training is not complicated, but it is easy to overlook," says Sales 2.0 Conference director Larissa Gschwandtner. "That's why we invited David DiStefano and Matt Heinz to contribute their knowledge. David will show what a winning sales-training framework looks like, and Matt will contribute specific case scenarios that sales leaders can use as templates with their teams. This event is going to be a rich experience and a worthy investment of time for sales leaders at any level."
Additional concepts that will be covered include how to involve non-sales executives in training processes to coach reps on finding and listening to buying signals. Other best practices will be revealed, like how to identify skill sets and establish mentors to across an organization to instill and maintain uniform strategies.
About Matt Heinz
Matt brings more than 12 years of marketing, business development, and sales experience from a variety of organizations, vertical industries, and company sizes. His career has focused on delivering measurable results for his employers and clients in the way of greater sales, revenue growth, product success, and customer loyalty. Matt has held various positions at companies such as Microsoft, Weber Shandwick, Boeing, The Seattle Mariners, Market Leader, and Verdiem. In 2007, Matt began Heinz Marketing to help clients first focus their business on market and customer opportunities, then execute a plan to scale revenue and customer growth. He launched Heinz Marketing formally in late 2008. Matt lives in Kirkland, WA with his wife, Beth, and a menagerie of animals (a dog, two cats, and six chickens).
About David DiStefano
David DiStefano is a seasoned executive with nearly three decades of successful senior management experience with both early-stage and global organizations. Over his career David has managed finance, operations, sales, and demand generation functions. David provides executive level support to Richardson's clients bringing overall vision and guidance, sales performance expertise and best practice insights to senior client management. David has been a driving force in expanding Richardson's products and services. Prior to joining Richardson in 1992, David spent nine years with PricewaterhouseCoopers, where he was Senior Manager. At PwC, David was responsible for the overall client relationship and engagement management for his clients. David is a Certified Public Accountant and holds a Bachelor of Science in Accounting from Drexel University.
About the Sales 2.0 Conference
The Sales 2.0 Conference is the number one industry event devoted to excellence in leveraging SaaS technologies. The Conference focuses on challenges and concerns of business-to-business sales and marketing executives. Attendees learn fundamentals like how to create a sales process ruled by metrics and measurement, how to encourage internal teams to collaborate to promote productivity, and more.