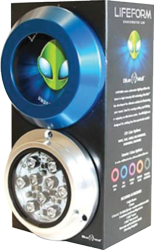 These lights are simply awesome!
Boise, Idaho (PRWEB) March 08, 2013
LIFEFORM LED™ has created the the perfect high intensity LED underwater boat light. The LIFEFORM 9 is the latest from LIFEFORM LED™, the light is machined from high grade aluminum with 5 different exterior colors to choose from to match a boats graphics or hull colors.
Underwater boat lights are designed to engulf a boats wake with beautiful light, and to create a halo pool effect perfect around the boat.
Available in 3 LED colors, blue, white and green, the LIFEFORM 9 creates more light output than many 12-15 LED underwater lights currently on the market at a price that will allow to buy more than one. Or mix the 9's with LIFEFORM 6 which has 7 different LED color options and the same exterior colors, great for mixing different colors.