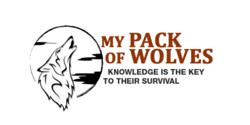 In the ensuing months we are hoping to raise money to give abandoned,neglected, and mishandled wolves and wolfdogs a proper home.
Mayfield Heights, OH (PRWEB) March 06, 2013
In the coming weeks My Pack of Wolves Sanctuary will be adding new merchandising items to its campaign to raise money for its primary goal of buying land for its enclosures. In this endeavor the rescue is looking for businesses to partner and create more visibility for the plight of the wolf and help promote continued education about the misconceptions and myths that lead to it's current incorrect reputation in the media. Other reasons to help include
1. Partnering with "for-profit" businesses will open another avenue to increase the ability to promote the sanctuary's campaign and fundraising drive.
2. The businesses' already have established clientele that can help the rescue reach new supporters to it's cause and purpose.
3. One of the most important aspects of the sanctuary's mission is to create publicity by getting out the message of the absolute importance of its purpose. Partnering with businesses is an excellent step towards reaching the general public.
4. The website for My Pack of Wolves Sanctuary will also designate a page for all its partners and sponsors with links to their sites as added cross publicity.
So far the My Pack of Wolves Sanctuary is creating several clothing items as well as magnets, key chains, tote bags, and pens to its inventory of merchandise. The rescue has also reached out to numerous jewelry makers to assist in creating a necklace and bracelet with the organization logo. In the coming months these items will be uploaded to the Facebook page as well as the website mypackofwolvessanctuary If the businesses that could partner could assist with selling the merchandise for a percentage going directly to the animals that would be an incredible start!
The sanctuary is looking forward to the many opportunities this will provide to the rescue and to the mission and goals.
My Pack of Wolves is a non profit 501 (1)(3) tax exempt organization offering safe haven and rescue to wolves and wolf dogs and giving them opportunities to thrive and be accepted into other packs as well as coexisting with humans. Fostering awareness and continued education of the public's knowledge about the misconceptions of the wolf and wolf dog with the hope to achieve a better understanding of the species.In order for the rescue to provide much needed homes and care to these animals, it must rely solely on donations,grants, and other charitable contributions.
Please follow My Pack of Wolves on Twitter as My Pack of Wolves and on Facebook as My Pack of Wolves Sanctuary.
Thank you!