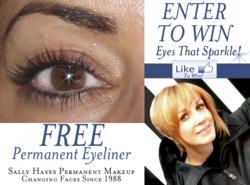 What woman wouldn't want to win a contest which enhances her appearance with Eyes that Sparkle?
New York, NY (PRWEB) March 05, 2013
She enhances natural beauty. She does it six days a week. She delivers natural-looking cosmetic solutions for women's faces across the USA. But now, leading permanent makeup artist Sally Hayes is adding last-minute enhancements to her already beautiful sweepstakes. Instead of announcing one lucky winner in her Permanent Eyeliner "Eyes that Sparkle" Sweepstakes…she'll be announcing three lucky winners.
"I have been so touched by the response and interest," says Hayes, who has successfully performed tens of thousands of permanent makeup procedures. "This is the first social media sweepstakes I've ever done in my career. While there is still time, I want to show my appreciation to all the women who have entered, called, emailed, or sent letters and private messages to me. I want to give something back to make this event even more special, more memorable."
Sally Hayes has a Permanent Makeup New York location (Tribeca in Lower Manhattan), another in Scottsdale, AZ, and is also in Las Vegas, NV. She specializes in providing natural-looking tattooed eyebrows, permanent eyeliner, permanent lip makeup, and cosmetic camouflage. Beginning on February 6, 2013, she launched a contest offering a permanent makeup eyeliner procedure to one winner. Now she is expanding it to award one winner from each of the three cities above.
Hayes decided on permanent eyeliner for the sweepstakes since she created the technique of applying it along the lash line. This popular method is used by a number of artists in the permanent makeup industry today.
The "Eyes that Sparkle" Sweepstakes ends March 6, 2013 at 5:00 p.m. EST. Here's how to enter:
1. Be at least 21 years of age and a registered Facebook user.
2. Type into the search bar: Sally Hayes Permanent Makeup.
3. Click "Like" on the Sally Hayes Permanent Makeup page.
4. Click on the button for ENTER TO WIN Eyes that Sparkle.
5. Enter your contact information to win. No purchase necessary.
Hayes will be announcing the winner on all of her online social media properties by Friday, March 8, 2013. The winners must have their procedure performed within 60 days of being notified.
"I love each of the cities where I work," says Hayes. "And I love helping the beautiful women to look better and feel better about themselves. Women with permanent eyeliner no longer have to worry about embarrassing smudges, smears, or rub offs around their eyes. It saves them time and effort every day for years at a time. What woman wouldn't want to win a contest which enhances her appearance with Eyes that Sparkle?"
About Sally Hayes Permanent Makeup
Sally Hayes is widely regarded as the country's top expert permanent makeup artist. With office locations in New York, NY, Scottsdale, AZ, Las Vegas, NV, she is frequently recommended by leading plastic surgeons and many of her clients, too.
Contact Information:
Sally Hayes Permanent Makeup
(offices of Tribeca Plastic Surgery)
44 Hudson Street
New York, NY 10023
(718) 644-2366