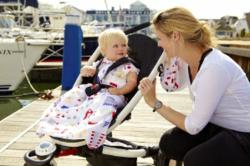 (PRWEB) March 06, 2013
Travel safe and sound with your baby this Spring/Summer 2013. Gro revives their award-winning range showcasing a fresh zesty look helping parents replicate a safer sleep routine anywhere in the world and in any climate.
Award-winning industry leaders and the UK's number one safer sleep brand with Grobag, The Gro Company, have launched their new SS2013 collection, including three new adaptable, lightweight Travel Grobags, as well as new Gro-To-Bed bedding, Comforters and Gro Clock Faces. Full details of the new SS2013 range are as follows:-
1.THE 0.5 TOG GROBAG – Three new seaside-inspired designs include Sandcastle Bay, Sweet Dreams and Under The Sea are all available in the lightest 0.5 tog style.
Hugely popular as a year-round option in warmer countries such as Australia, these lightweight 100% cotton Grobags weigh just 200g and pack away into a their own compact carry bag.
With a special opening for pram/car seat harnesses to pass through, transferring a sleeping baby from a pushchair to a car or from the car to the house is easy – the baby stays asleep and a consistent and safer temperature is maintained throughout.
For the UK market, this lightweight tog is designed for use during Summer months as well as for those holidaying in warmer climes or simply for travel safe and in seaside style. SAMPLES AVAILABLE, ON SALE SPRING (APRIL/MAY) 2013.
2.GRO-TO-BED – A unique zip-in bedding system, presented in fresh new designs, is designed to help a baby's transition from Grobags to bed. With the pillow and duvet secured to the bottom sheet, Gro-To-Bed avoids the problem of infants kicking off their covers during the night and makes it much harder for them to fall out of bed. Toddlers sleep more securely and for longer as 'nothing goes bump in the night'. SAMPLES AVAILABLE, ON SALE MID-MARCH.
3.COMFORTERS – A completely new range of comforters has been created in five animal-inspired designs. They can be used as a hand-puppet by the parent to engage babies with the playful characters. With ultra-soft finish, they are designed to be snuggled against a baby's cheek and also make the perfect gift. SAMPLES AVAILABLE, ON SALE MID-MARCH.
4.GRO-CLOCK FACES – The 'must-have' complementary buy with The best-selling Gro-Clock, Gro-Clock-Faces are designed to bring a little fun and a whole new set of friends from outer space to a baby's night-time bedside. SAMPLES AVAILABLE, ON SALE MID-MARCH.
According to Christian Jones, Managing Director of The Gro Company:-
" The Gro Company is delighted to be launching a SS2013 range focused on great design innovation, optimum child safety and parental peace-of mind at home and on-the-move.
"The new range is aimed at supporting parents particularly when travelling and going from one climate to another. Deciding on what is 'essential' versus surplus when travelling is a constant parental challenge in these days of strict baggage weight limits and we want our ranges to be as family-friendly as possible, regardless of whether you are home or away.
"Within every industry, lightweight goods are always in demand: from golf clubs to cars, yet infant retailers sometimes seem to forget that a parent has to transport kilo upon kilo of essentials on a daily basis, let alone on holiday. The introduction of our SS2013 for the Summer holiday season is timely and if we can help save British parents some money on excess luggage*, all the better.
Jones added:-
"The Gro Company ranges will deliver the 'Ultimate Travel Essential Product Range' for use anywhere in the world, designed to create the safest sleep possible for a child".
For more information, please visit http://www.gro.co.uk
*Last summer alone, Britons will have been charged almost £1 million a day for exceeding baggage limits – 2012 data - http://press.kelkoo.co.uk/british-holiday-makers-charged-186-million-for-excess-baggage.html
-ends-