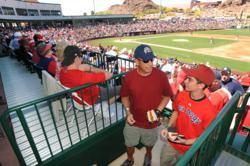 For baseball fans, art lovers, runners and those just craving a bit of sunshine, there are more than enough reasons to visit Tempe this season.
Tempe, AZ (PRWEB) March 07, 2013
Harsh winters along the East Coast and Midwest make chilly residents long for springtime. But, those seeking sunny days can get a preview of spring with a trip to Tempe, Ariz. Mild weather and lots of bright sunshine provide plenty of opportunity for visitors to shake those winter blues and warm up outside. The Tempe Tourism Office makes it easy to plan a spring getaway at http://www.tempetourism.com.
Many visitors want to make sure that their trip coincides with a special event in Tempe, such as Cactus League Spring Training, the annual Tempe Festival of the Arts and Pat's Run. For baseball fans, art lovers, runners and those just craving a bit of sunshine, there are more than enough reasons to visit Tempe this season.
Cactus League Spring Training is now in full swing with games continuing through March 30, 2013. There are 15 MLB teams in Arizona, including Tempe's home team, the Los Angeles Angels of Anaheim, the Cubs, the Rockies, the Giants and the Brewers. Tickets for games at Tempe Diablo Stadium start at just $12. There is also a free Angels Spring Training Trolley that can take fans from Tempe's Mill Avenue District to the stadium. See http://www.tempebaseball.com for more details, including a game schedule, stadium maps, hotel information and activity suggestions.
The streets of Tempe's Mill Avenue District will be filled with creative artwork from across the country and around the globe during the Tempe Festival of the Arts, April 5-7, 2013. More than 350 artists will be on site all three days from 10 a.m. until dusk, selling everything from jewelry to photography to sculpture. This popular festival also includes a children's craft area, live entertainment, street performers and an opportunity to sample local wine and craft beer at the Art of Beer and Arizona Wine Festival.
Run. Walk. Honor. Pat's Run, held April 20, 2013, is the signature fundraising event for the Pat Tillman Foundation. Participants run to honor the legacy of Pat Tillman, an Arizona State University alumni, Arizona Cardinals player and Army Ranger. Proceeds from Pat's Run go to the Tillman Military Scholar's program, which provides assistance to veteran and active military service members who are seeking a college degree. Pat's Run includes a 4.2 mile run or walk and a .42 mile Kid's Run for children 12 and under, as well as a Finish Line Expo. The 4.2 mile course begins near Sun Devil Stadium, travels through Tempe and ends at the 42-yard line inside the stadium. The number 42 signifies the jersey number that Pat wore when he played football for Arizona State.
Other popular outdoor activities this time of year include hiking in one of the many Sonoran Desert preserves in and around Tempe, cruising along the city's 175 miles of bike paths, seeing live music at the Desert Botanical Garden or dining al fresco at one of the many excellent restaurants in town.
For more ideas, visit the Tempe Tourism Office website or call 800-283-6734.
About Tempe Tourism Office
The Tempe Tourism Office is a non-profit organization devoted to marketing Tempe, Arizona as a desirable visitor and group destination site. The Tempe Tourism Office's mission is to provide visitors, media professionals and meeting planners with information on Tempe hotels, Tempe restaurants, Tempe entertainment and local points of interest. To learn more about Tempe, Arizona please call 480-894-8158 or 800-283-6734 or visit us at http://www.TempeTourism.com.
###