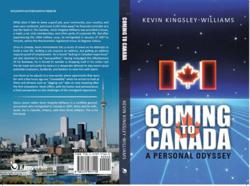 This book captures the essence of the immigrant journey.
Toronto, ON, Canada (PRWEB) March 08, 2013
Kevin Kingsley-Williams presents a new book about the immigrant experience amidst talks of immigration reform and racial violence throughout North America. In his book, "Coming to Canada – A Personal Odyssey," the author details challenges he faced and the success he achieved after immigrating to Canada in 1997.
In his debut memoir Kingsley-Williams describes an idyllic lifestyle in the West African country of The Gambia and how a military coup forced him to look for a new home elsewhere.
Having to immigrate to Canada proves to be an expensive and lengthy process that involves accumulating a mountain of official documents, extensive travel and interviews with many detours and mishaps along the way. After finally compiling all the necessary information the author says goodbye to his homeland and makes the 4,200 mile journey across the Atlantic to a brand new world.
In "Coming to Canada – A Personal Odyssey" Kingsley-Williams writes about the series of snarls he immediately encounters as he attempts to build a new life after his immigration to Canada. Getting a job requires an address, but getting an address requires proof of employment. He is found "lacking in Canadian experience" yet also deemed to be "overqualified." Having misjudged the effectiveness of his footwear, he is forced to wander a shopping mall in his socks—yet the ski mask and parka he wears in a desperate attempt to stay warm cause potential employers, landlords, and bankers to view him with alarm.
The author takes readers on a journey of exciting uncertainty that results in ultimate triumph as he is builds a successful career for himself as a certified general accountant.
About the Author
Sierra Leone native Kevin Kingsley-Williams is a certified general accountant who immigrated to Canada in 1997. Kevin and his wife, Sarah, live in Oakville, Ontario, with their three children. This is his first book.
"Coming to Canada – A Personal Odyssey" (ISBN 9781475977196, iUniverse, 2013),is available in hardcover, soft cover and ebook from several online book retailers such as barnesandnoble.com, amazon.com and kobobooks.com. The author also has a Facebook fan page and can be contacted at kingz2000(at)yahoo(dot)ca