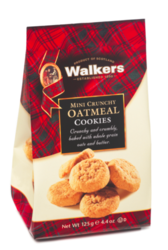 Hauppauge, NY (PRWEB) March 07, 2013
Walkers Shortbread, the venerable Scottish bakery founded by Joseph Walker in 1898 and still run by the Walkers family, will introduce a quintessentially Scottish cookie at the 2013 Natural Products Expo West trade show, in Anaheim, Calif. at booth #3978.
Walkers Shortbread's Mini Crunchy Oatmeal Cookies, made with only natural ingredients including whole grain oats, sweet creamery butter, whole-wheat flour and a touch of golden syrup, will join the brand's popular line of mini shortbread and cookie varieties. The 4.4-ounce resealable 'grab and go' bag of Mini Crunchy Oatmeal Cookies contains 28 bite-sized cookies, and will be available for purchase at retailers nationwide as well as on Walkers Shortbread's U.S. website at http://www.walkersus.com.
According to Steve Dawson, President of Walkers Shortbread Inc., mini-sized portions are a rapidly growing segment across many CPG categories. "They have done well for us. It's clear that consumers are looking to become more conscious snackers and facilitate portion control. Snacking 'on-the-go' is also trending, which has contributed to the growth of our mini line of products."
Walkers Shortbread products are, and always have been, simple, pure and all-natural, using nothing but the very finest ingredients it can procure. "Oatmeal was a natural choice for us, as oats are a quintessentially Scottish product," added Dawson. "In Scotland, oats are popularly used in porridge, skirlie (a white pudding), oatcakes, and a wide variety of sweet and savory cookies and biscuits."
All Walkers Shortbread's cookies and biscuits are baked using only the finest ingredients with no use of genetically modified ingredients (GMOs), artificial flavourings, colors or additives of any kind. Walkers Shortbread's cookies, shortbreads and oatcakes are certified Kosher OUD and suitable for vegetarians. To learn more about Walkers Shortbread and taste their new Mini Oatmeal Crunch Cookies, please visit booth #3978 at the 2013 Natural Products Expo West in Anaheim, Calif., or online at http://www.walkersus.com.
###
About Walkers Shortbread
Walkers Shortbread was founded in 1898 and is the leading brand of food exported from Scotland. The family-owned company still bakes its shortbread, traditional cookies, cakes, oatcakes and puddings in the secluded village of Aberlour in the Highlands of Scotland. Walkers products contain no artificial flavorings, colorings or additives: are GMO-free: and its shortbreads, cookies and oatcakes are certified kosher OUD. For more information, please visit http://www.walkersus.com.