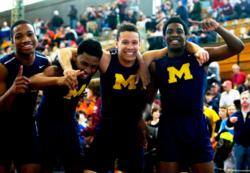 The Mount 4x200 team has dominated their event during the 2012-13 season.
Bronx, NY (PRWEB) March 07, 2013
The Mount St. Michael Academy 4x200 Relay Team won the High School State Championship in the 4x200 Relay Event on Saturday March 2 at Cornell University in Ithaca, NY. The team is now ranked 8th among high school 4x200 relay teams.
The Relay Team of Juniors Kasim Thomas and Anton Porter, and sophomores Andrew White and Dorwin Mitchell, coached by Darnell Gatling, outran 7 teams with a time of 1:34.30.
In the same meet, Tavon Nowell, a senior at the Mount, placed 6th in the 300 meter finals, and Anthony Okpagu, a senior, placed 4th in the Shot Put.
The Mount's 4x400 team of Seniors Jeffrey Jones, Tavon Nowell, Jeron Fenton and Vernell Mackey grabbed 4th place.
The 4x200 team will go on this weekend to compete with over 44 high school teams in the New Balance Indoor Nationals to be held this weekend, Friday March 8 through Sunday March 10 at the Armory in New York.
Coach Gatling has guided the team to dominate their event all season, including the following wins:
Stanner Games Champions
Bishop Loughlin Champions
Hispanic Games Champions
New Balance Champions
Intersectional (City) Champions
New York State Champions
Says, Coach Darnell Gatling: "We thank everyone for support and their prayers. We have high hopes for the future of these athletes."
Gatling is a former former world-class athlete, now competing on the masters circuit. Since 2005, he has set many master's age-group U.S. national records in the 400 meter hurdles and set a master's world record in 2011. Gatling has coached at the Mount since 2008.