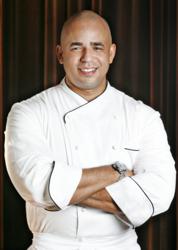 Instead of taking the grand prize of Executive Chef for the NYC restaurant, David opted to bring his expertise and creativity to The Ritz-Carlton, Palm Beach.
Manalapan, FL (PRWEB) March 06, 2013
The Ritz-Carlton, Palm Beach has appointed David Sears as chef de cuisine of the hotel's busiest restaurant, Temple Orange. Chef David brings years of epicurean experience and a history of world-class training to the oceanfront restaurant, which is raising the bar for Southern Florida's dining scene. Most recently, Chef Sears was the winning chef-testant on the Food Channel's reality show, Chef Wanted with Anne Burrell. Zengo required a chef who could cook the restaurant's unique fusion cuisine. Chef Burrell brought in four confident candidates, but only one proved to be worthy—Chef David. Instead of taking the grand prize of Executive Chef for the NYC restaurant, David opted to bring his expertise and creativity to The Ritz-Carlton, Palm Beach.
Chef David thrives on creating memorable dining experiences for each of his guests. He encourages interaction among staff and guests, which gives the restaurant a warm, friendly atmosphere. The sunny nature of Temple Orange is evidenced by the captivating oceanfront scenography and brilliant mandarin color palate. "Chef David's unparalleled enthusiasm and commitment to delivering an unforgettable dining experience is exactly what makes him the ideal talent to re-energize the Temple Orange vision," said Michael King, general manager of The Ritz-Carlton, Palm Beach. "Having worked with discerning guests from across the country, Chef David has embraced the resort's Palm Beach attitude and perfected the dining experience with equal parts friendliness and style."
Chef David's formal culinary training was at Johnson and Wales in North Miami, Fla. and also studied Business Management and Aerospace Engineering at Georgia Tech in Atlanta, Ga.—the trifecta for creating out of this world cuisine.
Chef David culinary beginnings were lofty from the start—personal chef for the former mayor of West Palm Beach where he was responsible for VIP business events, social gatherings and festivities for government dignitaries and socialites. From there, Chef David presided over his own catering company where he was tasked with overall financials, operations and culinary presentations for weddings, parties, business luncheons for up 150 guests.
Armed with solid culinary and business achievements, Chef David took his talents to The Ritz-Carlton, Key Biscayne from 2001 – 2004, as garde manger sous chef. David was assigned the artistry of chilled cuisine to include smoked foods, pates, rillettes, terrines, charcuterie, cheeses, seafood and fruit presentations and carvings. Chef David was honored to be part of the opening team for The Ritz-Carlton, South Beach and Coconut Grove properties.
In 2004, Chef David relocated to the nation's capital and took a position as garde manger chef for the Mandarin Oriental, Washington D.C. Success followed David and he was quickly promoted to chef de cuisine of Café MoZu in 2005 where he managed a team of 21 culinarians through breakfast, lunch and dinner service. Chef David designed all menus to reflect Café MoZu's concept of Asian cuisine with Mediterranean and European influences, resulting in the popular eatery being named as one the "Top 50 Restaurants in Washington D.C. and "One of the Hottest Restaurants in the World."
In 2006 - 2009, Chef David took his talents to the Ginn Reunion Resorts on Orlando,, Fla., as chef de cuisine for Forte, The Sushi Lounge, The Waterpark and In-room Dining. Chef David was able to work his gastronomic magic to garner accolades from Conde Nast Traveler and Destination Living magazines and establish Forte, the premiere fine dining restaurant in Central Florida. In addition, Chef David was incremental in opening The Grande Hotel signature restaurant concept for all 14 Ginn Resorts.
From 2009 – 2010, Chef's career headed west when he joined the Terranea Resorts and Hotel in Rancho Palos Verde, California as executive sous chef. He perfected his kitchen operations skills while managing a $50 million food and beverage budget and overseeing eight restaurants in addition to the Stewarding and purchasing teams.
Early in 2010, Chef returned to his native Florida was part of the opening team for the newly established Waldorf-Astoria, Orlando; Chef David was appointed executive chef for the Bull and Bear Restaurant. David was responsible for all aspects of managing the kitchen, kitchen personnel operation and financials.
Inspired by independence, Chef David left Waldorf-Astoria to pursue his own initiatives in 2012 as personal chef and private consultant. In this capacity, Chef David assisted clients with kitchen concepts and designs to include needed equipment and floor plans; conducted protocol training in quality assurance for banquets ala carte and fine dining establishments; created and executed extensive tasting menus and wine pairings as "Guest Chef" for established clientele; and assisted clientele with the implementation of recurring cooking classes covering an assortment of culinary profiles to include classical French, Asian cooking techniques and modern American cuisine.
Today, Chef David is the chef de cuisine of Temple Orange at the renowned beachside Ritz-Carlton property in Palm Beach, Florida. Responsible for a team of 18, the menu at Temple Orange resounds from Chef David's naturally progressive approach to cooking and affinity for fresh, local ingredients; while drawing upon traditional regional cuisine to offer innovative seafood and South Florida specialties.
Highlighting a stellar career, Chef David has been the recipient of many awards and accolades: 2012 Orlando Sentinel Foodie Awards Critics' choice: Best Steakhouse; 2011 Orlando Sentinel Foodie Awards Readers' Choice Best Hotel Restaurant; 2011 Silver Spoon Reader's Choice Awards, Best Steakhouse, Best Service, Best Desserts, Best Fine Dining; 2010 Best Fine Dining – Silver Spoon Award; 2010 Best Fine Dining: Orlando Dining Guide.
For Temple Orange reservations please call 561-540-4924or for more information about The Ritz-Carlton, Palm Beach, please call 1-561-533-6000 or visit, http://www.ritzcarlton.com/palmbeach
###
About The Ritz-Carlton, Palm Beach
The Ritz-Carlton, Palm Beach is a Forbes Five Star and 2012 AAA Five Diamond Award property, which completed a more-than $130 million transformation in 2009. The beachfront resort welcomes guests with breath taking ocean views immediately upon entry and a gorgeous outdoor terrace with evening ambiance and a fire pit. There are 310 spacious guestrooms and luxurious suites – including the 2,755-square-foot Presidential Suite – and 23,000 square feet of indoor meeting space. Dining options include Angle, a contemporary American supper club; Temple Orange for traditional American/ Mediterranean comfort food; Breeze as a chic burger bistro set ocean side; Oceanfront Cabanas for intimate affairs; Eau Spa Café; and Stir Bar in the lobby lounge for light nibbles and refreshments. The Business Lounge and Resort Cabanas cater to travellers who wish to combine work and play. Eau Spa offers a contemporary take on spa-going and day-long unwinding with a multitude of fanciful treatments, a full-service salon and Eau- fitness Center. For more information visit http://www.ritzcarlton.com/resorts/palm_beach.
About The Ritz-Carlton Hotel Company, LLC
The Ritz-Carlton Hotel Company, L.L.C., of Chevy Chase, Md., currently operates 81 hotels in the Americas, Europe, Asia, the Middle East, Africa, and the Caribbean. More than 30 hotel and residential projects are under development around the globe. The Ritz-Carlton is the only service company to have twice earned the prestigious Malcolm Baldrige National Quality Award, an award that originated in 1987. Its purpose is to promote the awareness of quality excellence, recognize quality achievements of companies and publicize successful quality strategies. The Ritz-Carlton Hotel Company won the award in 1992 and 1999. For more information, or reservations, contact a travel professional, call toll free in the U.S. 1-800-241-3333, or visit the company web site at http://www.ritzcarlton.com. The Ritz-Carlton Hotel Company, L.L.C. is a wholly-owned subsidiary of Marriott International, Inc. (NYSE:MAR).