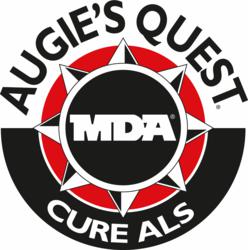 "It's humbling to be part of something that is destined to make a difference for so many families affected by ALS," said Monahan.
Tucson, AZ (PRWEB) March 07, 2013
Pat Monahan, lead singer for the Grammy-winning band Train, will provide entertainment for the eighth annual BASH for Augie's Quest, taking place March 21 at Mandalay Bay Resort & Casino in Las Vegas.
Award-winning CNN anchor Suzanne Malveaux will serve as host for the BASH, which the Muscular Dystrophy Association (MDA) says will provide an atmosphere of elegance and glamour but also giddy fun as typified by the event's designated theme, "Viva Las Vegas."
A sense of purpose will be provided by fitness pioneer Augie Nieto, the successful entrepreneur and co-founder of Life Fitness who received a diagnosis of ALS in 2005. Seeking ways to accelerate ALS research, Augie and his wife Lynne partnered with MDA to form Augie's Quest, which supports fast-track, innovative research seeking effective treatments and ultimately a cure for ALS. The BASH is one of a number of high-profile events across the country that raises funds to support Augie's Quest.
"I'm proud once again to answer the call of my friends Augie and Lynne Nieto, who I consider to be true heroes," said Monahan, who has released a series of successful albums with Train and as a solo artist, and who performed at the 2008 BASH and on the MDA Labor Day Telethon. "It's humbling to be part of something that is destined to make a difference for so many families affected by ALS."
ALS, also known as amyotrophic lateral sclerosis or Lou Gehrig's disease, is a progressive disease primarily affecting the motor neurons and there is no known cure.
Some 750 people, including business and civic leaders and fitness industry notables, attended last year's BASH at the JW Marriott Los Angeles LA Live.
"The 2013 BASH is going to be a blast, an unforgettable evening of fine dining, dancing and superb entertainment," said Augie Nieto, 55. "My not-so-humble goal is to surpass last year's total of $1.6 million. We need to stay on track and build upon the progress we've already seen in ALS research. We can do it, because we have the best friends and allies in the world helping us."
Tickets can be purchased by visiting the BASH for Augie's Quest website, or by emailing gsimoneaux(at)mdausa(dot)org for more information. The cocktail reception begins at 6 p.m., with the dinner and entertainment starting at 7:30 p.m. Las Vegas cocktail attire is required. Dancing and silent and live auctions will be part of the evening's fun.
The International Health, Racquet & Sportsclub Association (IHRSA) is the presenting sponsor, with IHRSA Executive Director Emeritus John McCarthy serving as the BASH's event chairman. Other major sponsors for the BASH include: Atlantic Club, Zumba Fitness, Hemelgarn Racing, North Castle Partners, Curves, Partnership Capital Growth Partners, Fitness Formula Clubs, Western Athletic Clubs, Equinox, Millennium Partners, Octane Fitness, XSport Fitness, 24 Hour Fitness, MotionSoft, Planet Fitness and Las Vegas Athletic Club.
BASH host Suzanne Malveaux, who joined CNN in 2002 and anchors Newsroom International and the 1 to 2 p.m. edition of CNN Newsroom, is renowned for her coverage of the White House, international events and much more. She has her own reasons for helping Augie's Quest.
"With the recent news of my mom facing her own personal battle with ALS, our family is now part of the amazing community of those battling this disease every day," said Malveaux. "We feel a common bond with all those who are fighting to live life to the fullest daily with the hope for a cure in the very near future. It is a pleasure to lend my support to MDA's Augie's Quest to work toward a cure together!"
Augie's Quest has funded several ALS research projects that have accelerated the development of therapeutics, including a historic ALS drug discovery project being undertaken by the ALS Therapy Development Institute (ALS TDI), which has screened more than 100 molecules to see if they affect the progression of ALS.
Augie and Lynne also serve as co-chairs of MDA's ALS Division, which provides unparalleled help to more than 30,000 Americans living with ALS.
"For decades, MDA has maintained programs in research and health care services to bring help and hope to families living with ALS," said MDA President and CEO Steven M. Derks. "MDA's Augie's Quest has been a game-changer in the battle against ALS, cultivating new allies and forging innovative partnerships in the biotech industry, while raising an astonishing figure for ALS research, at present exceeding $35 million."
About ALS
ALS (also known as Lou Gehrig's disease) attacks the nerve cells that control muscles, ultimately resulting in paralysis of all voluntary muscles, including those used for breathing. Average life expectancy for people with the disease is three to five years after diagnosis.
About Augie's Quest
Augie's Quest (augiesquest.org), MDA's ALS research initiative, is an aggressive, cure-driven effort singularly focused on finding treatments and a cure for ALS. The devastating disease affects more than 30,000 Americans.
Fitness pioneer Augie Nieto started Augie's Quest in conjunction with MDA's ALS Division. Nieto is co-founder and former president of Life Fitness of Chicago, and chairman of Octane Fitness. He and his wife Lynne serve as co-chairs of MDA's ALS Division. Nieto received a diagnosis of ALS in March 2005.
To date, Augie's Quest has raised more than $35 million for ALS research.
About MDA
MDA is the nonprofit health agency dedicated to finding treatments and a cure for ALS and related muscle diseases by funding worldwide research. The Association also provides comprehensive health care and support services, advocacy and education.
Over the years, MDA has led the fight against ALS, investing more than $307 million in its ALS research, services and information programs. MDA currently funds more than 250 research projects worldwide. It also operates 200 clinics across the county, 42 of which are designated as ALS-specific research and care centers.
The Association's unparalleled research, health care services, advocacy and education programs provide help and hope to more than 1 million Americans affected by ALS and the more than 40 other progressive neuromuscular diseases in MDA's program. MDA also facilitates hundreds of support groups for families affected by neuromuscular diseases.
For the latest research news and information about ALS and the other diseases in MDA's program, visit mda.org and follow MDA on Facebook (facebook.com/MDANational) and Twitter (@MDAnews).