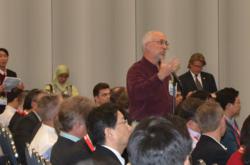 There was much discussion about the continuation of Moore's Law, both in terms of the technical ability to shrink as well as the cost.
SAN JOSE, California, and BELLINGHAM, Washington, USA (PRWEB) March 05, 2013
Last week's SPIE Advanced Lithography was a success in both quality of papers and numbers of attendees , with attendance at 2,230 and important progress reports on extreme ultraviolet (EUV) lithography, directed self-assembly (DSA), metrology, and related topics. The event ran 24-28 February in San Jose, California.
"There was much discussion about the continuation of Moore's Law, both in terms of the technical ability to shrink as well as the cost," said symposium chair Harry Levinson (GLOBALFOUNDRIES). "Achievement of a significant milestone for EUV sources that should enable more rapid progress in EUV lithography was reported, as was the potential for a EUV pellicle -- a welcomed prospect. And EUV extension to higher resolution, where we face many challenges, was the subject of many papers."
On Thursday morning, Cymer announced that they had met "key milestones" in recent tests of their EUV technology in an ASML lithography scanner.
David Brandt, Cymer's Senior Director of EUV Marketing, reported new results for EUV power output as a light source for lithography, including a key announcement of 40 watts of EUV light in continuous operation using MOPA Prepulse technology. Hear more in the SPIE Newsroom video interview.
"In addition to the good news of EUV source power achievements, there were first signs of considerations for EUV adoption in high volume, coming from infrastructure development such as EUV mask actinic inspection, EUV mask OPC, and EUV lithography integration in a full CMOS flow with yield-defectivity investigations," said symposium co-chair Mircea Dusa (ASML US).
DSA continued to be a subject of high interest, Dusa said: "What caught my attention was the modeling developments combined with applicability on real circuits: a major milestone for future potential adoption."
Levinson and Dusa also noted the event's high level of topical synergy evidenced by multiple joint sessions on topics such as lithographic solutions for chip-design layout, and its characteristic large conference-room audiences, particularly in the 2-year-old Etch conference and the 27-year-old Metrology and Process Control conference.
"Developers and executives in the chip-making industry tell us that SPIE Advanced Lithography continues to be the must-attend meeting," said Peter Hallett, SPIE Director of Marketing and Industry Relations. "This is where significant technology achievements are announced, where R&D challenges are discussed up and down the supply-chain, and where lithographic tools and techniques are introduced."
A well-trafficked two-day exhibition connected attendees with semiconductor suppliers, integrators, and optical device manufacturers, and a set of professional development courses on EUV lithography, DSA, optical lithography, FEOL/MOL/BEOL lithography, and related technologies began the week.
Day-by-day reports from the conference including full audio and slides from plenary talks are online at http://www.spie.org/ALnews.
Accepted conference proceedings papers will be published in the SPIE Digital Library as soon as approved after the meeting, and in print volumes and digital collections.
Authors are also encouraged to submit manuscripts to the peer-reviewed Journal of Micro/Nanolithography, MEMS, and MOEMS (JM3). In a recent JM3 editorial, editor-in-chief Chris Mack (LithoGuru.com) noted the high quality of many proceedings papers, and encouraged submissions of letters and review papers for JM3 publication as well.
Next year's event will return to the San Jose Marriott and San Jose Convention Center, with conferences and professional development courses 23-27 February and the exhibition 25-26 February.
About SPIE
SPIE is the international society for optics and photonics, a not-for-profit organization founded in 1955 to advance light-based technologies. The Society serves nearly 225,000 constituents from approximately 150 countries, offering conferences, continuing education, books, journals, and a digital library in support of interdisciplinary information exchange, professional networking, and patent precedent. SPIE provided over $3.2 million in support of education and outreach programs in 2012.