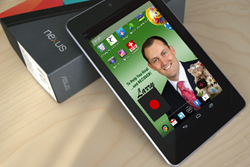 Myrtle Beach, SC (PRWEB) March 07, 2013
PILMMA (Personal Injury Lawyers Marketing and Management Association) founder and president Ken Hardison is partnering with technology guru Patrick Anderson, along with Personal Injury attorney Larry Disparti and 10 other Personal Injury attorneys from across the nation to bring the latest in cutting-edge tablet and application-system technology to members of PILMMA and ultimately to their members' injured clients.
PILMMA provides marketing and management solutions for injury and disability lawyers. The association delivers tools, information and education necessary to grow and manage a successful contingency based law practice.
As a leading influence in the legal marketing community, PILMMA is embracing the Google Nexus tablet and the "Medical Care Companion" as a way to help its members improve the overall attorney-client experience. Hardison believes that it is important to remain on the forefront of technological developments in order to remain relevant among SSD and PI lawyers in addition to the general public.
The "Medical Care Companion" enables clients to communicate with their firm's attorneys through dedicated email accounts. It also allows the client to journal their recovery through photos and videos as well as keep track of appointments with doctors.
Larry Disparti, founder of the Disparti Law Group, P.A., is currently using the Google Nexus with his Personal Injury (PI) clients. "The Google tablets provide a cost-effective solution and helpful features such as Gmail, Google docs, chat features and Google calendaring."
Disparti adds, "Often a settlement agreement is reached after the lawsuit is filed, and the case goes to mediation, which is the first time that the insurance company has a chance to see the client. These videos can help to demonstrate early in the settlement process how well the case will present to a jury. Ultimately, that can lead to quicker resolutions for a client so they can get on with their lives."
PILMMA is introducing the tablet and the "Medical Care Companion" to its members as a direct marketing and management benefit to their law practice. Among the many benefits of the "Medical Care Companion" is the client triage application. With user friendly directives, the client is able to specifically record their symptoms, procedures, conditions and medications. There is also an app on the Nexus that offers a location-based navigation feature to aid clients in finding physicians, pharmacies, and other service providers.
For more information on how your law firm can get involved, call 800-497-1890.
ABOUT PILMMA
The Personal Injury Lawyers Marketing and Management Association(PILMMA) is the premiere organization dedicated to providing injury and disability lawyers with the information they need on how to better market, manage and grow their law firms. Each year PILMMA holds Marketing and Management events that bring together the best minds in the industry along with personal injury and disability lawyers from across the country to discuss the latest innovations and strategies in the world of legal marketing. To learn more about PILMMA, visit http://www.pilmma.org.