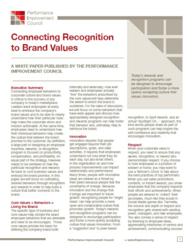 Dittman's new white paper provides some practical suggestions about ways to encourage desirable brand behaviors through the use of incentives and recognition.
New Brunswick, NJ (PRWEB) March 06, 2013
Designing employee incentives, and recognition and rewards programs focuses on outcomes ― optimizing productivity, achieving sales goals, securing referrals, and boosting bottom-line results. An equal part of the strategy, however, needs to center on how particular recognition and rewards tie back to core business values. This is discussed in the latest white paper from Dittman Incentive Marketing.
The specific type of business and core values help dictate the exact employee behaviors that are desirable and need to be encouraged. "Todays rewards and recognition programs can be designed to encourage participation and foster a more openly accepting culture that values innovation," says Jim Dittman, President of Dittman Incentive Marketing
Core Values + Behaviors = Living the Brand
How well leaders and employees "live" the behaviors prescribed by the core values will help determine the extent to which the brand is sustained. Dittman's latest white paper identifies some typical corporate values and how a recognition and rewards program can foster that behavior.
Innovation ― Because innovation is important to future growth, recognizing people for "bright ideas" can help inspire self-confidence and creativity that encourages innovation.
Respect ― Assure that any award or recognition also demonstrates respect. You may want to use a 'Winner's Circle' to talk about the best practices of top performers.
Customer-Focus ― By recognizing and rewarding outstanding customer-focused employees, you demonstrate the importance of behavior that focuses on exceeding customer expectations.
Quality ― One way a company can support quality behaviors is to be certain that the rewards presented to employees also demonstrate high quality standards.
Growth ― Your solution should keep a record of achievements and be flexible to allow for attributes that match the growth goals of individuals with the growth goals of your company.
Winning ― Look for programs measured on Key Performance Indicators. You want to be able to track results and measure progress toward the results you are trying to achieve.
Conclusion:
Keeping brand values top of mind is difficult when employees are mired in the details of their day-to-day work functions. A strategic employee incentive, recognition, and rewards program can be seamlessly interwoven with those daily activities to bolster the specific behaviors that add meaning to your performance and culture — and, consequently, promote your brand. A broader discussion of these elements can be found in the associated white paper
"Connecting Recognition to Brand Values."
About Dittman Incentive Marketing:
For more than 35 years, Dittman Incentive Marketing has been an award-winning, quality leader in providing incentives, recognition, and rewards programs to help companies realize immediate ROI in motivating sales people, employees, channel partners, customers, and consumers. Dittman's signature products and services include: TotalPRO® (Performance Recognition Online) – an incentive, recognition and rewards online software solution (SaaS), and Deluxe Group Incentive Travel. For more information, visit http://www.dittmanincentives.com.