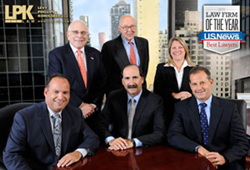 Boston, MA (PRWEB) March 19, 2013
With its mesothelioma lawyers already working all over the country, Levy Phillips & Konigsberg LLP ("LPK"), a nationally-acclaimed asbestos litigation law firm, whom U.S. News & World Report recently named 2013 Law Firm of the Year in Product Liability, announce the addition of Massachusetts mesothelioma lawyer and Navy veteran Chris Humphrey, who joins the law firm to help more victims of mesothelioma who were exposed to asbestos in a wide variety of industries, including many industrial and commercial sites, in and around Boston, MA.
Each year thousands of men and women are diagnosed with an asbestos-related disease such as mesothelioma, lung cancer, or asbestosis as a result of their unnecessary exposure to asbestos and asbestos-containing products. These diseases may have been prevented if the companies profiting from the sale and/or use of asbestos products shared the knowledge they had concerning its dangers to its customers or end-users.
Boston and the surrounding area is home to many shipping and manufacturing job-sites where workers would have been exposed to asbestos. Boston's rich maritime history and abundant coastal environment makes industries such as shipbuilding, fishing, and merchant shipping incredibly popular for Massachusetts workers throughout the city's respected history. As one of the oldest cities in America with readily accessible coastal ports and railroads, Boston and the surrounding area was also the home of countless manufacturing sites.
In addition to the shipping and manufacturing industries, thousands of victims were exposed to asbestos during the construction of Boston's many hospitals, colleges, and universities.
Massachusetts workers were frequently exposed to asbestos by their involvement in Boston's abundant shipbuilding and manufacturing industries. Not limited to shipyards and power generation, thousands of other victims were exposed to asbestos through their work at industrial and commercial sites.
Massachusetts workers who were exposed to asbestos at these and other job sites located throughout the Commonwealth can seek the expertise of the Massachusetts mesothelioma lawyers at LPK for possible legal representation. LPK's history of obtaining numerous landmark and record-setting verdicts and nationwide recognition makes it the first choice for many victims suffering from mesothelioma, lung cancer and asbestosis who were exposed to asbestos in the Commonwealth of Massachusetts.
If you or your family member has an asbestos-related disease, you should get in touch with an experienced asbestos attorney at LPK right away to determine if you have a case. For a free consultation, please call our 24/7 toll-free hotline at 1-800-MESO-LAW (1-800-637-6529) or submit an online inquiry at http://www.levylaw.com.