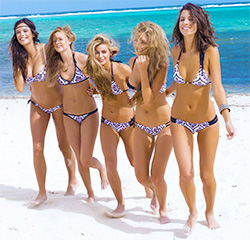 If you are looking for the perfect Brazilian bikini for the upcoming season, look no further than TeenyB Bikini Couture's new spring line.
Belleair Beach, FL (PRWEB) March 07, 2013
TeenyB Bikini Couture is pleased to announce their new 2013 Spring Line which contains a variety of beautiful designs, as well as new colors and prints.
If you are looking for the perfect Brazilian bikini for the upcoming season, look no further than TeenyB Bikini Couture's new spring line. Not only do they have a first-ever customized TeenyB baroque print with their eye-catching logo in a wide variety of styles, but there are nearly endless new colors, prints, and styles in this romantic line, as well. There are several new mesh bikinis including a sexy animal print, as well as two mesh options with striking colors and designs. For a sweet and playful look, there is a ruffle bikini in gold and white stripe, and several different floral prints for an ultra-feminine style.
When you open up this year's much-anticipated 2013 Sports Illustrated Swimsuit Edition, you will find plenty of TeenyB with six of their bikinis featured. Eva De Goede and Ellen Hoog can be seen in a new purple, red, and orange striped print and Genevieve Morton sports both a custom TeenyB bikini and a Blush Pink bikini for her shoot in Great Barrier Reef, Australia. Emily DiDonato and Adaora were both photographed in Namibia wearing only sexy TeenyB bottoms, and Julie Henderson looked so seductive in a red and black lace TeenyB bikini for her shoot in Seville, Spain.
Lace plays a role in the new spring line with beautiful teal-on-teal lace and a yellow-on-coral lace that come available in their popular Tie-Side Shortie bottom style. TeenyB is proud to introduce two new colors, blush pink and espresso brown, to their most popular Brazilian styles, as well as a new style; the 4-String Shortie bottom which follows the same lines as their classic Shortie bottom but with tantalizing open sides. Founder and Creative Director Kathryn Gardner had this to say about the direction of the new Spring Line: "I am very excited with this year's spring line. We wanted to take our style more towards the playful and flirty side, with our contrasting two-tone bikinis and ruffles, and of course soften our edge with new romantic floral prints and a pastel palette. Of course we always ensure a perfect fit with our less is more tailoring."
The new 2013 Spring Line can be viewed in its entirety at http://www.teenyb.com. TeenyB sells their bikinis exclusively online in order to maintain the strictest quality and customer service standards.
About TeenyB Bikini Couture
Founded in 2007 and known for designing and manufacturing premium Brazilian cut bikinis for style conscious shoppers, TeenyB Bikini Couture is the go-to source for women around the world who are seeking fashion forward luxury swimwear. TeenyB's mission is simple: to offer the best in Brazilian cut bikinis through a commitment to design, quality and superior customer service.
Contact Information:
TeenyB Bikini Couture
(727)542-0005
media(at)teenybikini(dot)com
http://www.teenyb.com/