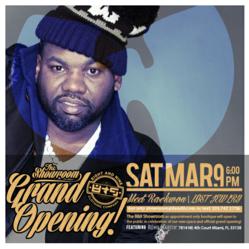 "It's dope to celebrate our opening with a legend like Raekwon." via founder and creative director Ray Guilbault
Miami, FL (PRWEB) March 06, 2013
Saturday, March 9, Miami based streetwear brand 8&9 Clothing will open it's showroom to the public for one day! Fans will have the chance to meet Wu Tang's Raekwon at the event from 6-7 p.m. The showroom will be open for customers from 11-9 p.m. Refreshments for the VIP event courtesy of Remy V.
8&9 an official sponsor of the Raekwon concert to be held Saturday at The Stage Miami will have tickets available for customers and fans at a pre-sale price of $22. RSVP is required for the meet-and-greet event via email to showroom(at)8and9(dot)com or via text to 305.747.1706
The 8&9 Showroom is an appointment only streetwear boutique. Shoppers can expect the latest spring goods from 8&9 in addition to showroom only exclusives and special deals. For more information follow @8and9 on twitter or instagram. Questions will be answered via email or text.