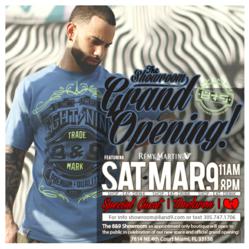 Miami, FL (PRWEB) March 07, 2013
Saturday March 9th, 8&9 will open its new showroom to friends and fans. The full Spring Collection will be available in addition to showroom exclusive items and deals on winter close outs! Shop hours are 11am-8pm. Raekwon will be in the building with his latest mixtape Lost Jewlry.
The new space is 2800 square feet including a boutique showroom, offices, photography studio and warehouse with a private gated lot. 8&9 is a Miami-based independent streetwear company. Founder and creative director Ray Guilbault says the showroom theme is old fashion American hard work, "that's how we built our brand so it was important to incorporate significant elements when designing our office/showroom." Fixtures constructed of iron pipe and early 1900's reclaimed wood are complimented by a 40 foot distressed flag mural and raw concrete floors. The gated lot enhances the private experience of the typically appointment only showroom boutique which will open to the public only for special events.
Saturday will bring great music, food, drinks and clothes. The official opening after party is at The Stage with live performance by Raekwon and Saheed. Concert tickets can be purchased at The Showroom on the day of the event! For more information contact showroom(at)8and9(dot)com or 305.482.1126.
8&9 Clothing
7814 NE 4th Court
Miami, FL
33138