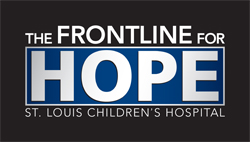 Unless you have a sick child and experience it firsthand, it can be difficult to comprehend the situations or extent of what occurs here every day.
St. Louis, MO (PRWEB) March 06, 2013
A documentary-style series highlighting the patients of St. Louis Children's Hospital will debut this March on KSDK.
"The Frontline for Hope," will run in half-hour weekly episodes Saturday nights, starting March 16th. The series follows several patients, families and hospital staff throughout their personal hospital journeys. The entire series was shot and produced locally as a co-production between St. Louis-based Coolfire Media and Coolfire Originals, which currently has six shows in production on television networks including Oprah's OWN, the Discovery Channel and NickMom.
Coolfire's team set up an office at the hospital in July 2012, which became its on-site production hub while they documented the stories of nearly two dozen patients from as close as St. Louis city and St. Charles county, and as far away as Dublin, Ireland.
"If anyone has grown up in St. Louis they know the critical role St. Louis Children's Hospital plays in the community. What we now realize is that their community really spans the globe," says Jeff Keane, CEO, Coolfire Originals and lifelong St. Louisan. "It's an honor to work with Children's to tell these stories."
Camera crews observed what really happens when a child is transported to the ER after a critical injury; they spent months at bedsides learning how families cope with profound illness, and how bravely children fight through those illnesses; they spoke candidly with physicians and staff about their personal triumphs and losses.
"Unless you have a sick child and experience it firsthand, it can be difficult to comprehend the situations or extent of what occurs here every day," says Steve Kutheis, director of marketing at St. Louis Children's Hospital. "We wanted something that gave a true-to-life, in-depth and very personal view of our staff and Washington University physicians, and how they help patients and families. But it was important that it be an authentic portrayal of life at the hospital. We didn't want anything scripted."
While it captures real life moments for dozens of families and staff over the course of eight months at St. Louis Children's Hospital, producers prefer to use the term "docu-series" over "reality show."
"The best programs or series have a setting where the stories walk through the door each day. In this case they walk in, fly in by helicopter, are transported by ambulance and more. The families and staff are amazing and courageous every step of the way. We are privileged to tell their stories," says Tim Breitbach, VP, Story & Series Development, Coolfire Originals.
"Children's Hospital has such a vital role here in St. Louis," said Lynn Beall, President and General Manager of KSDK. "We're extremely proud to partner on this unique effort that has been produced right here in our own community by Coolfire. This compelling series captures the fight for life and the dedication of doctors and staff at Children's. I can't think of more compelling programming."
Hospital leadership saw this series as an opportunity to provide the public with an unprecedented glimpse inside its doors and into its culture. "Community support is critical for us to be able to fulfill our mission," says Janice Bailey, vice president of St. Louis Children's Hospital Foundation. "It's important that the community understand the scope of what we do."
Producers had no issue finding enough content for the series. In fact, theirs was the opposite challenge. "The magic that was captured in the hospital has to be translated into compelling programming," says David Johnson, President, Coolfire Media. "At some point you have to turn the cameras off and start editing. It was hard to know when to do that exactly."
Further collaboration between the hospital and the Coolfire companies led to the group's decision to bring Joe Buck on as an Executive Producer. Buck has a long-standing relationship with both the hospital and Coolfire. He will also narrate the series.
View a sneak peek here.