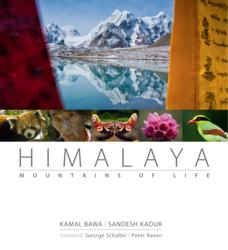 The Himalaya—land of Gods, of ancient mountain kingdoms, of icy peaks and alpine meadows—is like no other place on Earth. The life and landscapes of the region are as diverse, spectacular and fragile as the mountains themselves.
Boston, MA (PRWEB) March 06, 2013
University of Massachusetts Boston professor and leading conservation biologist Kamal Bawa and conservation photographer Sandesh Kadur announce the release of their book Himalaya: Mountains of Life.
Five years in the making, the book focuses on the Eastern Himalaya—the first time the region's threatened biodiversity and cultures have been documented together by a preeminent conservation biologist and world-class nature photographer.
Kamal Bawa is a Distinguished Professor of Biology at UMass Boston, where he has taught since 1974. The book is published by the Ashoka Trust for Research in Ecology and the Environment (ATREE), a Bangalore-based environmental think tank founded by Bawa. The publication was marked by launches in three Indian cities (Bangalore, Mumbai, and Delhi), as well as in Boston.
Bawa and Kadur had previously coauthored Sahyadris, India's Western Ghats. Published in 2005, Sahyadris highlighted the biocultural diversity of the Western Ghat mountain range in western India, a UNESCO World Heritage Site. The two books, on two of the recognized hotspots of biodiversity found in the country, represent Bawa's and Kadur's commitment to bring India's rich biocultural heritage to life on the page, celebrating its uniqueness and communicating its importance to a wide international audience through compelling words and state-of-the art digital photojournalism.
"The Himalaya—land of Gods, of ancient mountain kingdoms, of icy peaks and alpine meadows—is like no other place on Earth. The life and landscapes of the region are as diverse, spectacular and fragile as the mountains themselves," says Bawa, who has been conducting fieldwork in the Himalayas for nearly five decades.
"Even today, these mountains hold many mysteries: unnamed species, primeval cultures and the promise of magical cures to heal all of humanity," adds Kadur.
The importance and novelty of this book lies in weaving together perspectives on the region's land, water, biodiversity and peoples into an extraordinarily rich and diverse tapestry of words and images. The book portrays the Eastern Himalayas as a melting pot of ancient cultures, languages, and religions. Fascinating, often intimate back-stories of natural phenomena are revealed—such as that of the precious herbal medicine Yartsa gunbu, a parasitic complex involving a fungus and the caterpillar of the Ghost Moth that lives and breeds on the Tibetan plateau.
Bawa and Kadur have captured astonishing images of rarely photographed species and seldom-documented behaviors, from an Atlas Moth in a defensive posture to a tiger feeding on a rhino carcass under the cover of darkness.
Today, dramatic changes are underway in the Eastern Himalaya. Human activities are modifying, degrading, and destroying the habitats upon which wild species depend for their survival. Climate change is altering long-standing patterns of temperature and precipitation. Air pollutants are being found in the most remote valleys and on the highest peaks. The book concludes by documenting these threats, covering the promise and pitfalls offered by tourism, and outlining steps that must be taken to preserve the biocultural treasures of the Eastern Himalaya for generations to come.
The research, writing, and publication of Himalaya: Mountains of Life was funded by ATREE with Felis Creations, Gorgas Science Foundation, and the University of Massachusetts Boston.
To view a media press kit for Himalaya: Mountains of Life, visit http://www.himalayabook.com/ and http://www.atree.org/Mediakit_Himalaya_book_launch.
About UMass Boston
With a growing reputation for innovative research addressing complex issues, the University of Massachusetts Boston, metropolitan Boston's only public university, offers its diverse student population both an intimate learning environment and the rich experience of a great American city. UMass Boston's nine colleges and graduate schools serve nearly 16,000 students while engaging local, national, and international constituents through academic programs, research centers, and public service activities. To learn more about UMass Boston, visit http://www.umb.edu.
About ATREE
ATREE is a research organization that was established in 1996 to help curtail the rapid loss of India's diverse biological resources and natural ecosystems and to address the environmental, social and economic dimensions of this decline. ATREE envisions a society committed to environmental conservation and sustainable and socially just development, in which ATREE plays the role of a model knowledge-generating organization for catalyzing the transition to such a society. For more information on ATREE's work on land, water and livelihoods; forests and governance; global changes and ecosystems; and ecosystem services and human wellbeing, visit http://www.atree.org.