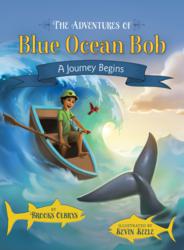 Decide what you love, what excites and inspires, then make that your purpose and watch what transpires. - Doc the turtle
New York, New York (PRWEB) March 12, 2013
A Journey Begins, the first book in the new early chapter book series titled The Adventures of Blue Ocean Bob, teaches children of all ages life-defining achievement principles like purpose, vision, goals, attitude, and persistence while also raising ocean awareness. The five-chapter book is inspired by motivational authors Napoleon Hill, Earl Nightingale, Bob Proctor, and Wallace D. Wattles, among others.
Written by Brooks Olbrys, a lifelong student of achievement philosophies, the fifty-six page adventure story complete with colorful rhymes and captivating illustrations reveals to children the excitement of seeking and finding their true purpose while making new friends along the way.
"I was inspired by my young son to make these philosophies accessible to children," stated Olbrys. "Ever since he was a baby, we've read books to him every night before he goes to bed. I found myself wishing that we could convey these important ideas that would benefit him for life."
For more information about The Adventures of Blue Ocean Bob early chapter book series, please visit http://www.BlueOceanBob.com.
Synopsis:
Young Bob lives on an idyllic island, yet he yearns for a greater sense of fulfillment. With his guardian Xena, a cautious hummingbird, by his side, Bob seeks guidance from the wise and happy creatures of the sea. Al the dolphin, Doc the turtle, Earl the clam, and Wallace the walrus all give him great advice, but Bob's true test requires strength from within: to achieve his dreams, he'll have to overcome his fears and the boundaries that could otherwise prevent him from becoming a marine biologist and devoting his life to protecting the ocean.
This is no small problem. After all, Bob must prove himself to the renowned marine scientist Mary Marine. A Journey Begins highlights the importance of purpose, vision, goals, attitude, and persistence, all of which are required to make Blue Ocean Bob's dream, and every other dream, come true.
Reviews:
"Brooks Olbrys has done a remarkable job. Blue Ocean Bob provides young minds with positive precepts and powerful lessons that will serve them for the rest of their lives."

Bob Proctor, personal development coach and best-selling author of You Were Born Rich
"The deepest desire we have as parents is to help our children build character, confidence, kindness, and enthusiasm. Your children will love these delightful stories, and the simple but profound principles they reveal will be with them for a lifetime"

Brian Biro, America's Breakthrough Coach and author of Beyond Success
Availability:
The Adventures of Blue Ocean Bob – A Journey Begins by Brooks Olbrys; Illustrations by Kevin Keele; Greenleaf Book Group (Emerald Book Company); Juvenile Fiction; Hard Cover 978-0-9829613-4-6 $12.95; eBook 978-0-9829613-3-9 $3.99
Hard and electronic copies of the book series are available for purchase at http://www.amazon.com, http://www.BN.com, http://www.BlueOceanBob.com, http://www.indiebound.com, iTunes, Ingram, Baker & Taylor, and Greenleaf Book Group.
An interactive iPhone/iPad app (free and full ($3.99) version) is also available on iTunes.
Brooks Olbrys, Author:
A graduate of Stanford University, the Fletcher School of Law and Diplomacy at Tufts, and the University of California at Berkeley School of Law, Brooks Olbrys is the founder of Children's Success Unlimited and a managing director at investment bank Ion Partners. He lives with his wife and son in New York City and greatly enjoys escapes to the North and South American coastlines.
Kevin, Keele, Illustrator:
Kevin Keele is currently an artist for Disney Interactive Studios. His work has been featured in numerous picture books, magazines, board games, and video games. He lives in Utah with his wife and two sons. Though he lives far from any coastlines, he has always been fascinated by the ocean and enjoys illustrating its various creatures.