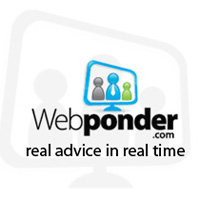 Speaking with an auto expert face to face about your issue can help a visitor educate themselves on what they should be expecting.
Miami, Florida (PRWEB) March 06, 2013
Free online mechanic advice is now available online through live video consultations with mechanics who offer advice online through face to face video consultations on Webponder.com. Webponder is an expert advice website that connects visitors looking for advice, with experts listed on Webponder.com, through a live video chat.
Advice on Webponder is not only for visitors looking for car advice online, visitors can get advice in many different areas from experts in a variety of fields, including legal advice, medical advice, mental health counseling, technology advice, or tax advice.
The auto category was recently launched, and with the launch, Webponder is providing exclusivity to Featured Auto Experts that register at this time. The exclusivity will provide the expert with the only Featured Expert listing in their geographical area for the sub-category of their auto expertise, for example, mechanic, body work, modifications, or financing.
While obviously an online mechanic is limited in their ability to "fix" your car, speaking with an auto expert face to face about your issue can help a visitor educate themselves on what they should be expecting or looking for when they visit a mechanic or other auto professional in person. Mechanic shops, auto-body shops, and car dealerships are some of the most intimidating places of business to visit, but by being better informed, Webponder hopes to provide its visitors with confidence during their next visit.
Additionally, Webponder is a great place for the auto expert and potential customer to meet for the first time, and talk about what it is the customer needs. Once the parties speak through the live video, the customers are more comfortable with that professional, and more likely to bring that expert their business.
Although all experts on Webponder can choose the rate that they are willing to have a video consultation at, many elect to provide free initial consultations, in an effort to connect with the individual and introduce their services to them. Webponder does not prohibit the transfer of contact information or have other restrictions for the experts and customers to meet in person. In fact, many times Webponder simply serves as the initial introduction for both parties, and then the relationship is carried on in the traditional way.
Webponder.com's main office is located in Miami, Florida. All inquiries should be forwarded to Steve Thompson, Managing Director, at (305) 373-7775.