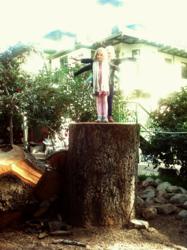 The school administration knew that there was a better way to distribute the resources provided by nature and that this could become a valuable teaching moment at the same time.
Pasadena, CA (PRWEB) March 06, 2013
There is no coincidence that the end-of-year fundraising gala for Pasadena Waldorf School is entitled "From Acorn to Mighty Oak." To be held this coming May 19th, from 5PM to 9PM at Pandora on Green in Pasadena, the event's title is a fitting metaphor for how this private Pasadena school views child development. It is also meaningful to the school after the recent loss of a revered and graceful oak tree that had offered shade to one of the school's playgrounds since the school moved to its beautiful and historic Altadena campus at "Scripps Hall" in 1987. This loss has also offered an opportunity to celebrate the role of environmental stewardship in the Waldorf philosophy and how Pasadena Waldorf School has enacted its vision of linking academic lessons with a compassionate understanding of the natural world.
The venerable oak, estimated to have been approximately 150 years old, had suffered from fungal root decay and, as a safety measure, the school decided to have the tree cut down. The question then arose as to what to do with the wood. Traditionally, when trees in Los Angeles County are toppled, they are immediately mulched and hauled away. However, the school administration knew that there was a better way to distribute the resources provided by nature and that this could become a valuable teaching moment at the same time.
To this end, the school worked with a local miller to cut the tree into usable lumber right on the campus property. The tree had also been located conveniently next to the school's woodworking tent, where students regularly engaged in class projects beneath its branches. Materials were also milled for use inside that tent for years to come. Some special pieces were reserved for use in a campus memorial to the tree, as well as for works of functional art that PWS parent artisans and woodworkers will create for the gala auction on May 19th. The school also arranged to sell off a large portion of the exceptional lumber to cover the costs of taking the tree down. Students remained involved throughout the process, as they were educated about the life cycle of the tree as well as the greater connection that trees and other natural resources have to society.
Pasadena Waldorf School celebrates its involvement in the ever-growing eco-awareness movement, and is proud to be a member of the Association of Waldorf Schools of North America (AWSNA), the organization recently honored by receipt of the Captain Planet Foundation's Green School Award. Beyond just cultivating an appreciation of nature, however, Pasadena Waldorf School teachers create lessons that foster deeper meaning within the student, often integrating subjects together into these lessons. A science lesson might be integrated with relevant art, music and English, for example, in a manner that young students can absorb on a more personal (and therefore more permanent) level. By artfully imbuing lessons with meaning and relevance, and by sometimes taking the academic learning out of the classroom and into the world, Waldorf teachers truly give their students the opportunity to connect to what they are learning.
Pasadena Waldorf School, founded in 1979, is one of over 1,000 Waldorf schools worldwide with over 90 years of experience offering inspired education. Pasadena Waldorf High School, which opened this year, joins 40 other Waldorf high schools now operating in North America. Waldorf education is the fastest growing independent school movement in the world.