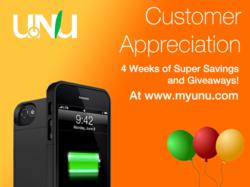 "uNu is focused on customer satisfaction because we know that our customers are our most important asset. We want to thank the people who believe in our mission and who also support us by choosing our products"
Union City, Calif. (PRWEB) March 06, 2013
uNu Electronics Inc., a trailblazer in the portable power category, today announced the start if it's "Customer Appreciation Month". Including four weeks of weekly Facebook giveaways at facebook/unucases, weekly "mystery" sales on myunu.com, and a huge-giveaway partnership with iLounge, uNu has pulled out all the stops to show its appreciation towards its customers.
"uNu is focused on customer satisfaction because we know that our customers are our most important asset. We want to thank the people who believe in our mission and who also support us by choosing our products", said Sen Cai, CEO.
Customer Satisfaction Month runs from the 5th of March until the 31st of March, 2013. During this time visitors will be able to have a chance at several different products at greatly reduced prices as well as chances at winning free products.
"We have seen such great responses from our customers when we run free promotions. It really is rewarding to see that we can help so many people that we, as a company, value so much. That's why we have decided to expand our reach and include social media, like facebook, and also partner with iLounge to reach as many people as we can, to give our customers the biggest thank you possible", said Brian Westphal, Director of Marketing.
Overall, the Customer Appreciation Month will consist of several types of benefits for users. A weekly Facebook giveaway where users can like, comment and share for a chance to win free products. Also, uNu will be unveiling weekly mystery deals which will include an array of products. Lastly, uNu has partnered with iLounge go give away even more free products to anyone who signs up on iLounge.
About uNu
uNu Electronics Inc. is a global manufacturer and distributor of mobile-electronic accessories. uNu's unwavering belief in creating innovative designs, delivering reliable products, and providing exceptional customer service have made us one of the biggest leaders in mobile accessories. Based in Union City, CA with international production facilities, uNu caters to clients on a global scale.
At uNu we are passionate about our products and the people who use them, that's why we make every effort to create and provide superior products with innovative solutions. Using our founding three principles of uNuology, we focus on products that emphasize innovative designs, quality products, and offer reliable consumer solutions. Winners of the 2013 CES Design and Engineering Award, uNu is a proven source for reliable and innovative products. With 100% customer satisfaction always on our minds, we rigorously test every product to ensure that uNu is your most reliable power source.
Media Contact:
Jason Guo
Director of Public Relations
Jason(at)myunu(dot)com