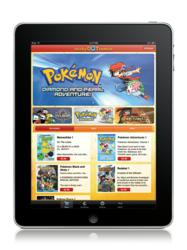 Now with the sticky DOT comics iPad app, fans of any age can take their favorite family-friendly manga and graphic novels on the go.
San Francisco, CA (PRWEB) March 06, 2013
VIZ Media, LLC (VIZ Media), the largest publisher, distributor and licensor of manga, graphic novels and anime in North America, has announced the launch today of sticky DOT comics, its new free kids comics app for the Apple iPad® and iPad® mini.
Sticky DOT comics, a proprietary app developed by VIZ Media, brings the best all-ages comics to the iPad with content featuring fan-favorite characters both familiar and new. Fans can securely browse, download and read a diverse collection of popular manga and graphic novels including full volumes of POKÉMON, MAMESHIBA, MR. MEN LITTLE MISS™, REDAKAI and VOLTRON FORCE®.
sticky DOT comics is available for free download through the iTunes Store. Individual volumes are available for purchase and download in the U.S. and Canada within the application for a debut price of $2.99-$3.99 per volume. Readers are encouraged to check the app regularly, as new series and volumes, as well as free previews, will be added frequently.
sticky DOT comics Launch Week Titles Will Include:

POKÉMON ADVENTURES
POKÉMON ADVENTURES: DIAMOND AND PEARL/PLATINUM
POKÉMON BLACK AND WHITE
POKÉMON: DIAMOND AND PEARL ADVENTURE!
MAMESHIBA: ON THE LOOSE!
LITTLE MISS SUNSHINE: HERE COMES THE SUN!
MR. STRONG: GOOD THING I CAME ALONG!
REDAKAI
VOLTRON FORCE
"Now with the sticky DOT comics iPad app, fans of any age can take their favorite family-friendly manga and graphic novels on the go," says Beth Kawasaki, Senior Editorial Director, VIZ Kids. "There's something for everyone in this debut, including the adorable adventures of LITTLE MISS SUNSHINE, the action of REDAKAI, and the awesome fun of POKÉMON, available for the first time in digital form, and we'll be adding more exciting series and content to sticky DOT comics soon!"
For more information on sticky DOT comics, please visit the dedicated sticky DOT comics page on iTunes.
For more information on VIZ Kids graphic novels and manga, please visit VIZKids.com.
About VIZ Media, LLC
Headquartered in San Francisco, California, VIZ Media distributes, markets and licenses the best anime and manga titles direct from Japan. Owned by three of Japan's largest manga and animation companies, Shueisha Inc., Shogakukan Inc., and Shogakukan-Shueisha Productions, Co., Ltd., VIZ Media has the most extensive library of anime and manga for English speaking audiences in North America, the United Kingdom, Ireland and South Africa. With its popular digital manga anthology WEEKLY SHONEN JUMP and blockbuster properties like NARUTO, BLEACH and INUYASHA, VIZ Media offers cutting-edge action, romance and family friendly properties for anime, manga, science fiction and fantasy fans of all ages. VIZ Media properties are available as graphic novels, DVDs, animated television series, feature films, downloadable and streaming video and a variety of consumer products. Learn more about VIZ Media, anime and manga at http://www.VIZ.com.