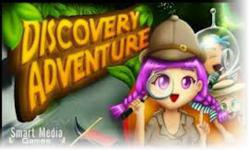 Men do not quit playing because they grow old; they grow old because they quit playing.
― Oliver Wendell Holmes Jr
Henderson, Nevada (PRWEB) March 06, 2013
Smart Media Technologies' Discovery Adventure game is a totally new kind of online game, not in the type of game itself, but in its sole purpose and its powerful execution. The sole purpose is to attract new users to Home Page Pays v2 which among other things is a brand new kind of social network. The game itself which was created by SMT's own elite programmers is one of the most popular kinds of games which is a hidden object game. This is where users compete against a clock to find objects that are listed and the faster they do it the higher their score.
There are many different scenes and when a scene that they selected from a map is completed their map will show a flag for that location indicating they have fully explored it. Users can go back to those areas at any time and try and increase their score for that area if they choose to. And they can also get their high score listed on a global hall of fame for everyone to see displaying their trophy and avatar.
How SMT uses the game is quite unique. Some people are not all that motivated by the opportunity to win prizes in games and contests especially if they are not good at games or don't consider themselves to be lucky. But that is what makes this game so unique. Regardless of how good someone is at playing games anyone can win with this particular one. The way people win prizes in Discovery Adventure has nothing to do with score. There are 2 ways to win and users can actually win prizes without ever playing the game themselves.
Since the purpose of the game is to attract new users to HPP v2, SMT has made winning very different from other games because the normal ways won't attract most people. In Discovery Adventure prizes are hidden within the game i.e. cash, laptops and even vacations. The first person to find the item wins that item. So while finding the hidden objects users may click on an item from the list and find an extra surprise, a window that pops up that says "You just won a new laptop." Since the idea is to attract new users the other way to win is even easier. Whenever someone wins a prize in Discovery Adventure whoever referred them to HPP also wins the same exact prize. So users can drastically improve their chances of winning simply by referring all their friends and encouraging them to play.
While free users always get "Smart Points" for referring their friends that they can spend in the HPP online rewards store this game has given an even more attractive reason for people to share HPP with others.
About Smart Media Technologies
Smart Media Technologies is a world-class technology company that has developed proprietary technology called "Home Page Pays" (HPP) which is set to revolutionize the Internet world. HPP works on any computer or browser and no technical experience is required. This platform offers the user dynamic free services and products combined with the very best digital branding and advertising services that are available online.
Users have access to the HPP Social Community which includes the latest Communication features, Social and Educational Games, Educational Video Libraries, Prizes, Giveaways, a Top Sites window to the Internet that puts the very best of the Internet at the users fingertips and the world's only Reward Points System where users earn points for simply using the Internet that they can redeem in the HPP online rewards store."
CEO David Martin says; "Through creativity and our amazing technical team, we can do almost anything that we can dream. Our goal is to offer the most valuable free member system ever created."
To learn more about Smart Media Technologies visit their website at: http://smartmediacommunications.com
To learn more about the Home Page Pays Dynamic Bar go to: http://smartmediaplay.com