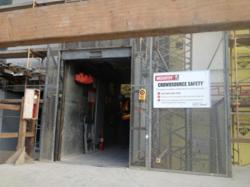 Eliminating deaths and major accidents is the number one objective of the construction industry. CrowdSource Safety™ provides a super simple way to capture more information, which helps firms provide a safer environment on job sites. (Peter Lasensky)
Palm Springs, CA (PRWEB) March 06, 2013
NoteVault, a leading mobile Daily Report app service provider, has released their newest offering, NoteVault Safety™, which greatly improves construction site safety by reducing job site risks and therefore accidents.
NoteVault improves project safety with their service, CrowdSource Safety™, by helping companies document safety observations faster and with more detail using NoteVault's voice-based reporting observations and alerts. NoteVault's CrowdSource Safety™ provides a way for construction companies to expand their "inspector base" by having ALL of the project team able to report safety observations in addition to the safety inspectors. The capability of having everyone actively participate in keeping projects safe by reporting safety observations real-time, improves communication, raises safety awareness, reduces risk and helps avoid accidents on the job by allowing the safety team to get them corrected more quickly. Like NoteVault's Daily Report application, CrowdSource Safety™ also provides 3rd party time and location stamped documentation of the observed risk and its resolution.
NoteVault CEO, Peter Lasensky says "Eliminating deaths and major accidents is the number one objective of the construction industry. CrowdSource Safety™ provides a super simple way to capture more information, which helps firms provide a safer environment on jobsites".
McCarthy Building Companies has chosen to implement CrowdSource Safety™ on the Martin Luther King Jr. Multi-Service Ambulatory Care Center project in Los Angeles, California. Mike Wiggins, Project Director for McCarthy, explains why they decided to launch this important initiative. "We are always looking for more efficient methods of taking our world-class safety program to the next level; zero injuries. CrowdSource Safety™ supports that goal by increasing safety awareness and encouraging real-time reporting and enforcement of our safety program. We are just beginning the initial trial of the system at the MLK MACC project and are optimistic that it will help us achieve our ultimate objective; sending every worker home to their families without injury every day."
In addition to CrowdSource Safety™, NoteVault has released AlertMe! with On Time Information™, a service for instant reporting of incidents which places simultaneous phone calls to designated stakeholders in the event an incident is reported. Recipients of the call will hear the original recorded audio as reported; ensuring that the information was sent to all of the important recipients. AlertMe! also delivers real-time texts and/or emails to the person who reported the incident to ensure that the site specific policies and procedures for handling incidents, are communicated and followed.
Lasensky adds that "NoteVault Safety is a paradigm shift in the way construction site safety is implemented. We are excited to add this service to our offerings".
About NoteVault:
NoteVault, Inc. provides innovative mobile reporting solutions for the engineering and construction industry. NoteVault enables the entire project team to do their reporting from their mobile phone using only their voice, and then quickly delivers transcribed, printable reports to any authorized recipient via the web or email, including photos and video clips. For more information, please visit http://www.notevault.com
About McCarthy:
McCarthy is one of America's premier builders with nearly 2,000 employees across the country focused on getting better every day. For more information, please visit http://www.mccarthy.com
McCarthy and NoteVault and stylized logos are registered in the US Patent & Trademark Office. All other product or service names are the property of their respective owners. © 2013 NoteVault, Inc. All rights reserved.