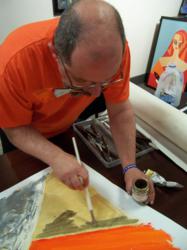 Seattle, WA (PRWEB) March 07, 2013
Michael Tolleson, a self-diagnosed Asperger Syndrome Patient, decided to pick up a paint brush one day in support of his partner, and the rest is history. With a diagnosed IQ of 154, it was no wonder Mr. Tolleson completes a large painting in 60 minutes or less. His body of work, the limited time it takes him to complete a single painting, and the fact that each painting is gallery worth beginning with his first, easily puts Michael in the savant category. "Living on the Spectrum", Michael explains, "that daily transitions from one thing to the next, face blindness (inability to recognize faces) and over stimulation are just some of the obstacles I deal with on a daily basis. Somehow it all goes away when I pick up a paint brush. It's truly a miracle".
Michael's preferred medium is acrylic as it allows him to finish a painting quickly, even before the acrylic has had a chance to dry. Each painting is completed wet, and the end result looks more like a beautiful impressionist oil painting, and nothing like acrylic at all. Many will attest to this as Michael sells between 5-10 paintings a month worldwide.
In addition to his astronomical acclaim in the Autistic community, Mr. Tolleson will be featured in an upcoming book specifically about Autism. His paintings will reflect different themes throughout the book, and as the discussion continues on the pages, his artwork will reflect the words spoken on each page. Depression, meltdown, and anxiety are just a few subjects in which Michael will provide paintings for in a new book titled "Been There, Done That, Try This" by featured authors, Craig Evans, Anita Lesko, and acclaimed autism specialist Dr. Tony Attwood. Michael is considered a beacon of light of the autistic community and he simply "wants to show the world that his art can be a symbol of hope for others who want to reach out and create, but feel they cannot".
Currently Michael's work can be seen in over seven prominent galleries worldwide, including a special gallery that hand selects special savant and autistic artists to be featured inside. Polly's Place in London currently exhibits Mr. Tolleson's work, as his paintings sell quite well in the European market.
One may ask, where does Mr. Tolleson gather his inspiration to paint? He simply looks at a picture or photo and is able to gather an emotion or feeling, and he then expresses that onto his canvas in 60 minutes or less through palette knife and brush. "My art speaks of acceptance of each other and the comfort by which we travel in this world" touts Mr. Tolleson. "I am here to give emotion to each piece, to say something paramount, something that others can identify with and understand. I want to share my journey with others, and simply inspire".
xxx
About Michael Tolleson
Michael Tolleson is a self-taught artist and savant who has been self-diagnosed with Asperger Syndrome. With an IQ of 154, and the ability to produce a large scale gallery ready painting in 60 minutes or less, Mr. Tolleson is considered by many to be a genius in the artistic and autistic community.
For bio and additional information please go to. www michaeltollesonartist.com
Facebook:
https://www.facebook.com/pages/The-Art-of-Michael-Tolleson/300007513391922?ref=hl