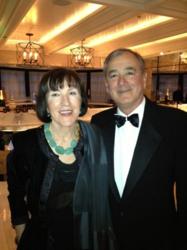 We are delighted to be one of 11, 5-Star properties in California, it is truly a privilege to have received this award for the 17th consecutive year
Oakhurst, CA (PRWEB) March 06, 2013
The world-renowned Château du Sureau was recently awarded the coveted five-star rating from Forbes, continuing a 17-year streak of earning the lofty rating.
"We are delighted to be one of 11, 5-Star properties in California, it is truly a privilege to have received this award for the 17th consecutive year," said Erna Kubin-Clanin, owner of the inn.
"Since 1958 Forbes Travel Guide has been the authority in travel and hospitality, to be part of their prestigious group of Hotels is an honor"
She credited her staff for maintaining the Château's commitment to providing the highest level of service in accordance with their observation of European hospitality customs.
"I thank the entire team at the Estate for their tireless commitment and dedication," said "Kubin-Clanin.
The prestigious honor was bestowed upon Kubin-Clanin at the 55th Annual Star Awards in Beverly Hills on February 27.
Château du Sureau is located at the south end of Oakhurst, about 16 miles from the southern entrance to Yosemite National Park.
Kubin-Clanin first opened her award-winning restaurant, Erna's Elderberry House, in 1984 and quickly realized she needed an Inn to accommodate the many out-of-town visitors. She and builder Gary Browns started construction on the ten-bedroom Château, adjacent to Erna's Elderberry House Restaurant, in 1990. Named for the elderberry bushes that cover the rolling property, Château du Sureau was completed in 1991 and has continued to offer guests and elegant experience just outside Yosemite National Park.